The sky looks bluer, the sun shines brighter, and the world is greener. Het is Lente (it is Spring!) which only means one thing in the Netherlands … flower season! 
Like many things in the Netherlands, the bulb flower season's exact dates depend on the weather gods' moods. Still, as a general rule, it starts in mid-March with the crocus flowering,  followed by narsissen (daffodils) and hyacinths. The star of the season, the tulip, flowers in all her abundant glory from about mid-April to mid-May.  However, similar to last season, visiting the flower fields are impacted by covid-19 restrictions. To avoid disappointment, it is best to check before you travel.
Cycling for miles next to these fields of colour explosions has been on my bucket list since childhood when my dad gave me a box of Dutch cookies adorned with a picture of the tulip fields.  As I now call Haarlem home, this has become the highlight of our family spring celebrations.
The Bloemencorso Bollenstreek is the most popular Dutch flower parade, and your best vantage point is on the Keukenhof Boulevard in Lisse in front of the main entrance of Keukenhof.
Areas and Routes
The three main areas of the Netherlands are the Bollenstreek in Noord Holland, Noordoostpolder in Flevoland, and (possibly less well known) the tulip fields along the beautiful coastline of Den Haag and Leiden up to Alkmaar.  Normally, you can reach all the flower fields easily with public transport, which is currently limited due to restrictions.
The aptly named Bollenstreek (bulb district) is the area of flower fields surrounded by the charming villages of Lisse, Hillegom, Noordwijkerhout, and Voorhout. It is here that you will find the world's biggest flower exhibition, Keukenhof.  The longest tulip route is in Noordoostpolder in Flevoland, with over 100 km snaking through 2500 acres of flower fields.
One way to plan your blooms-chasing adventure is to have an overview of all the flower fields, making Bloemenradar your reliable tool to map out your route. The flowering fields are updated daily.
ANWB takes the guesswork out of planning your journey by suggesting both cycle and car routes, marked by numbers on the map.  With Route.nl you can find even more detailed cycle routes. Routes range from a breezy 5 km to a huffier 35 km,but as is the true beauty of cycling in the Netherlands, the road is flat and safe.
This international community in Haarlem has local information on bike rentals, non-tourist buses from Haarlem, as well as road numbers and place names for your sat nav.
Places Worth a Visit
Keukenhof is known as the world's biggest open-air flower exhibition and is only a 30-minute drive from Amsterdam.  It is also easily reachable by train or by bus. With the promise of more than 7 million bulbs to bloom and 800 varieties of tulips alone, it is indeed something to behold. Children will have fun at Keukenhof too. They can design their own bulb mosaic, play sleuth during a speurtoch (treasure hunt), clamber across the playgrounds and cuddle furry animals at the petting zoo. Be warned that it can be hectic; busiest times are over the weekend, so if you can manage, try for a midweek visit or arrive before 10:30 or after 16:30.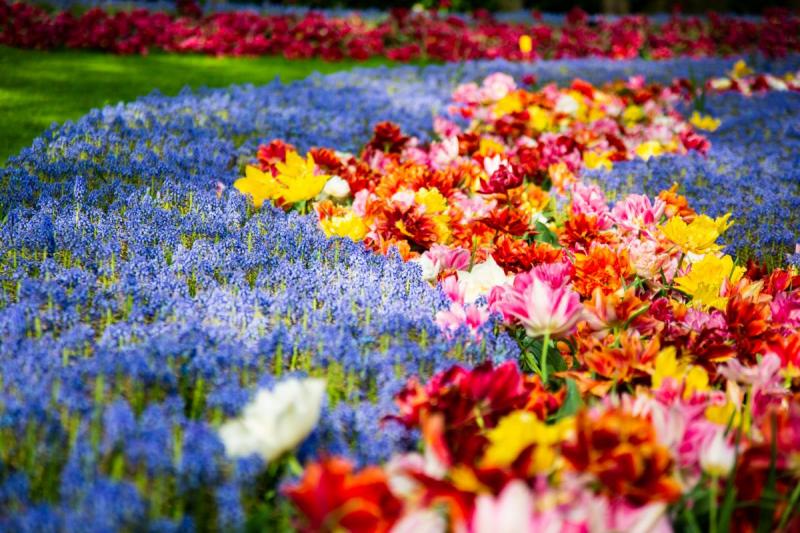 This tulip paradise is about an hour's drive north of Amsterdam, between the colourful flower fields of North Holland.  Here, you can learn more about how the tulip became a Dutch icon. Land van Fluwel will truly enchant your children with an avonturen speelparadijs (adventure playground), a verstoppertjesbos (hide and seek forest), a klimparcours (a climbing course), a sensory blote voetenpad (barefoot path), a strand (beach) and even a skelterbaan (go-karts track).  An exciting new addition is the 11-meter high uitkijktoring ( lookout tower), where you can enjoy a panoramic view across the colourful fields. Land van Fluwel is also the collection point for the Bloemenbollenboemel (the Dutch language is as colourful as the fields, love it!).
This is a unique experience riding on a tractor-pulled carriage through the flower bulb fields. It is wheelchair accessible.
Fancy taking some tulips home? Why not create unique hand-made bouquets from the tulips you hand-picked at Annemieke's Pluktuin (Picking Garden) near Hillegom? You can also rent a bicycle, and they will provide you with a map with different flower routes. In the Flevoland area, you can pop into Annemieke's sister, Hanneke's Pluktuin.
Appreciating rows and rows of colourful flower fields can be thirsty work, especially on a bicycle. I have heard great things about Buitenplaats Plantage, an organic cafe with a lovely garden where the kids can run free while you soak up the sun. Just take note for the little ones that the ponds are not fenced.
This is a working tulip farm in Voorhout where you can enjoy a guided tour amongst the kleurrijk (colourful) flower fields, learning more about the process from bulb to tulip. Being amid these blooming fields also makes for great photo opportunities.  And of course, you will be able to replenish with a hot beverage and appeltaart met slagroom (apple pie with cream) or indulge in a freshly made stroopwafel (syrup waffle). De Tulperij is the perfect place to buy bulbs to colourise your own garden.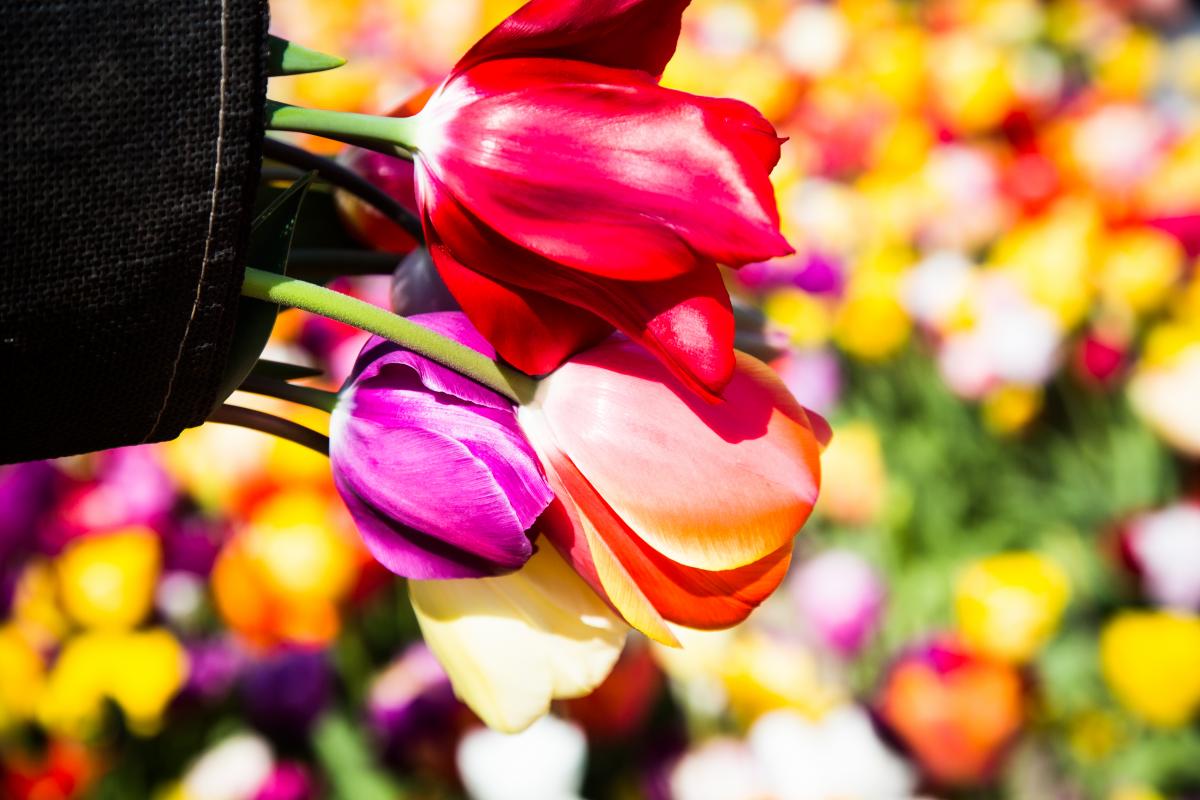 This 17th-century mansion is not strictly a place to appreciate tulips, but it is most certainly well worth a side trip while on a flower safari in the Bollenstreek.  Guided tours inside the castle transport you back to the Golden Age era of the Netherlands. The Castle only open her doors on a few selected days a year, such as Dag van het Kasteel (Day of the Castle) on 24 May and Open Monumentendag (Monument Day) on 11 and 12 of September.  All are dependent on corona restrictions.   Keep an eye on their website and Facebook page for updates.  Take a breather from all the cycling or hiking with a stroll through the magnificent gardens and forest and let the kids cuddle a furry friend in the kinderboerderij (petting farm).  The indoor animal enclosures are currently closed to the public.
This local Lisse museum, which translates as The Black Tulip Museum, is all about tulips.  You can learn everything about the history of the bulb flower and how the Netherlands became one of the biggest exporters of tulips globally.  All the art in the exhibition is tulip inspired, and they run both adult and children workshops throughout the year.
If you love being in amongst the hustle and bustle of a trading floor, set your alarm early and visit this world-famous flower auction in Aalsmeer. Be awestruck by the sheer amount of flowers as you watch the exciting bidding from the gallery.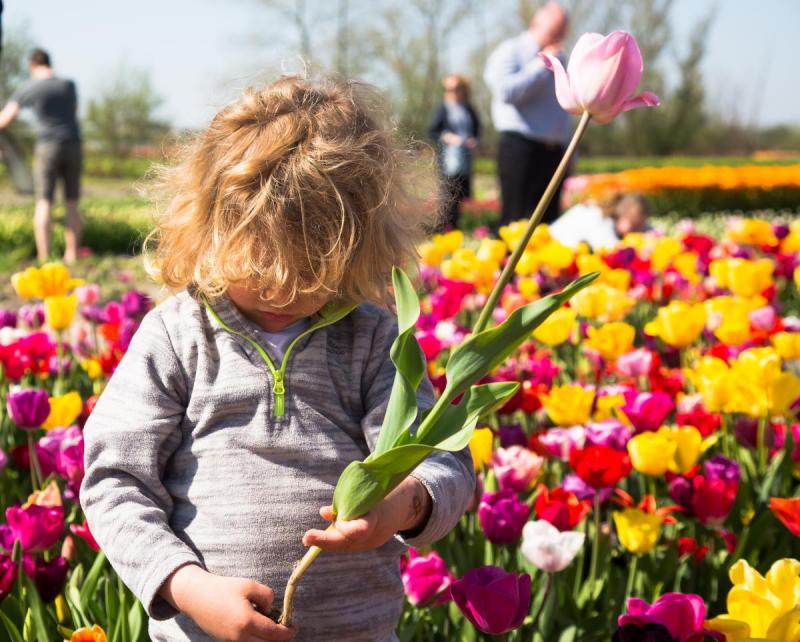 Alternative to Pedal Power: Car, Air, Water, and Foot
By Air
For the more adventurous with deeper pockets, enjoy a birdseye view of the rows and rows and then more rows of rainbow coloured fields of flowers by helicopter. They promise a corona-safe trip.
This year, the flower-copter flies only on two Saturdays in April
Once inside Keukenhof, you can opt for a 45-minute serene boat ride past the fields of flowers in an electrically-propelled boat known as fluitervaren (whisper boats).  Not wanting to sound like a broken record, but Keukenhof has not yet been cleared to open this 2021 season.
By Foot
Pack a backpack, lace up those boots and hike through the bulb flowers district following the Wandelnetwerk Bollenstreek (hiking network). It offers over a 100kms of hiking trails which are all clearly marked en route.  You can also pick up a map from any of the VVV offices in Lisse, Noordwijk, Warmond, Katwijk and Leiden.
Veel plezier in de bloembollenvelden…have fun in the flower fields!
---
Photo Credits: All in-text images and banner supplied and copyrighted by Magdalena Laas Photography.
Magdalena Laas is a freelance visual storyteller. Born in South Africa, adopted by New Zealand, welcomed by the United Kingdom and now learning to cycle in the Netherlands, with her husband, son and well-travelled cat. Also look for her on Instagram or LinkedIn and DutchReview.