Amsterdam Mamas is bursting with freelancers and entrepreneurs, many of whom work from home. But sometimes working mums need a change of scenery and someone to serve them for a change! Robyn Grafton consulted our Facebook group to uncover some of Amsterdam's best cafés with work spaces and wi-fi, and came back with some surprising suggestions.
There are many good things about working from home. As I type this I'm dressed in an outfit that says 'not expecting to leave the house', the radio is on, and my baby boy is gurgling away on the rug. No busy cycle paths, no making small talk in the kitchen and no endless meetings in windowless rooms to go to.
But sometimes my inspiration requires a change of scenery, my mama-brain a decent coffee, and, gosh, there are times when I'm desperate for some meaningless small talk with someone who can do more than gurgle back at me.
And it seems I'm not the only one! We've trawled the many posts relating to this topic and have come up with a list of places around town to get your creative juices flowing again. (For a map of the locations, see below or click here)
Eerste Jacob van Campenstraat 54
Already popular as a weekend brunch hangout, during the quieter week days B&R also makes a great spot to get some work done. Now with one additional site near the Prins Hendrikkade. Have your weekend brunch on a Tuesday – why shouldn't a deadline be delicious too?
Javastraat 55
This NY style coffee bar (Brooklyn style if you want to be more accurate) is a favourite with the Oost mamas, who applaud the excellent coffee and sweet treats. Eclectic décor and a very handy kids play area if you need to have your 'assistant' with you.
Vondelpark 5
You couldn't ask for a more inspiring location to work from. The Blauwe Theehuis offers lovely views over the Vondelpark and a cosy interior for when the weather is not cooperating.
Standard fare in the shape of sandwiches and muffins, and excellent coffee to wash it down. I can make a personal recommendation for the Mulled Wine in winter – obviously for after the work is done.

Andreas Bonnstraat 2
In the same area but "quieter than Yysbreeker", Boterham gets very enthusiastic reviews for its cakes and pastries: "in the morning they're baking, so you're amidst a lovely smell of cakes and scones".
Light and fresh surroundings are sure to make working much more of a pleasure.
Oosterdokskade 143
Open from 10am to 10pm every day, the Central Library offers heaps of space for the flexible worker.
Not strictly a café, but there is a small place on the first floor if you need to refuel and a La Place upstairs. If you want your coffee made with a bit more care and a better bean, you can pop next door to Coffee Company.
Overtoom 31
Beautiful and light. This is a studio, concept store and café – all blended together, so let your eyes wander when the glare of the laptop gets too much. Fresh and healthy lunches, great coffee and the much-needed cake accompaniments (I'm sensing a theme here…)
Javastraat 23
Another Oost favourite! Delicious coffee from Two for Joy, excellent sandwiches and salads to refuel, and a very handy boutique at the back to give you a few minutes distraction from any creative blockages.
Always a nice atmosphere with a good soundtrack. Nice selection of slightly 'stronger' drinks to help celebrate pressing the send button!
Utrechtsestraat 9
This 430-square-metre concept store, housed in a former bank building on Rembrandtplein gets excellent reviews as a workspace. Interesting décor, free wi-fi and bags of space, with a choice between large shared tables or big comfy couches.
The coffee also gets a big thumbs-up for tasting a lot better than the usual weak and milky brews you might find in other branches (apologies to any die-hard SB fans who like it that way).
Haarlemmerdijk 182
One of the best cups of coffee in Amsterdam can be found at Two for Joy, who roast their own beans and bake their own cakes. The café offers lots of seating and a nice atmosphere for getting work done. Excellent choices for lunch (the vegetarian chili is wonderful) and a good tea selection for those steering clear of the caffeine.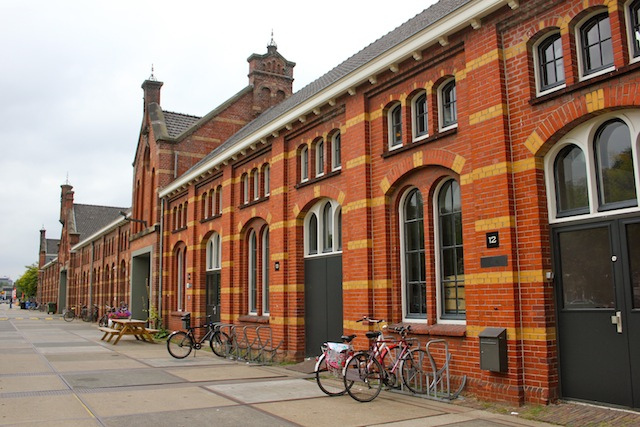 Haarlemmerweg
One of the very best suggestions was Westerpark! There's free wi-fi coverage across the entire area between the Haarlemmerweg, the outdoor events area and the Klönneplein near the Gasholder.
What better place to work during the spring and summer months? Bring your own picnic or make use of the many delicious food outlets in the Westergasfabriek.
Weesperzijde 23
Generally better known for its amazing riverside terrace in summer, several of the mamas have also picked it out as an ideal place to get some work done too. Beautiful surroundings, good coffee, excellent cake – and when the work is done – a delicious wine menu to explore.
---
This list has been compiled with the help of our members from the Amsterdam Mamas Facebook group.
---
photo credits: Main image – Yay Images
Other images – Flickr
Robyn moved to Amsterdam four years ago, fell head over heels for a Dutchie and is now the proud mama of a baby boy, Jack. With a background in legal business development and marketing, and naturopathic nutrition(!), she took the plunge last year and became a freelance corporate, commercial and proposal writer. She hopes to pick up the nutrition study again one day, but until then is happy to experiment with recreating healthy versions of her guilty pleasures – raw snickers bar, anyone?