New York. One of the biggest and most famous cities in the world, renowned for Wall Street, blocks and blocks of sky-high buildings, and of course, a cultural hub of clubs, galleries, and museums. And let's not forget… shopping, shopping, shopping. But family friendly? Julie Mills provides us with comprehensive information to make your Big Apple adventure memorable for all members of the family.
---
This New York quick-guide is based on a trip I made in June 2019. I hope these tips will help parents to plan their family holiday to this incredible and diverse city. To make your trip a memorable experience I highly recommend checking out www.newyork.co.uk.
PLAY!
A good way to balance the day with your kid(s) is to mix indoor and outdoor activities and fortunately New York has plenty of both.
Central Park There are many parks in New York. You probably will not be able to visit them all but you cannot miss Central Park. This immense park counts no less than 21 playgrounds and has numerous activities for everyone: you can walk, visit a zoo, bike, row, skate, and ice skate (depending on the time of year). It is also a perfect location for a picnic. You can very easily spend an entire day in this wondrous park. With little ones in tow, it may therefore be a good idea to split the visit over a couple of days, perhaps combining visits to the park with trips to the local neighborhoods surrounding it.
The High Line Park If you have time, the High Line Park, built on an old train track, is also worth a visit. It is a pleasant walk for some great photography. There is elevator-access to the park.
Chelsea Market Before hitting the park, you can take a look at the indoor Chelsea Market, located on the south side. Here, you will find many food stalls where you can buy take-away and easy-access picnic foods. There are also some beautiful, but expensive, little, crafty stores. Walking the park in the northern direction, you will arrive at Hudson Yards, the new district of Manhattan. There is a large shopping centre which houses The Vessel, a funky architectural piece of art. It's free to visit and explore, but don't forget to book your (free) tickets in advance. The structure is not pram friendly and therefore all prams and strollers will be required to be left in an unmonitored pram parking bay at the base of the structure.
SEE!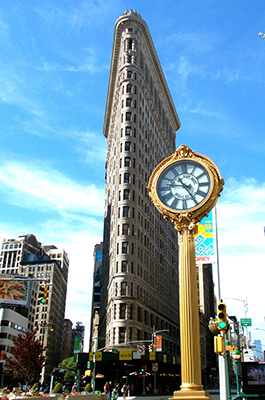 Empire State Building A must-do is the Empire State Building. The view is breathtaking and will entertain the whole family! You can access the building with a pram but will be required to collapse it to pass the security checks in the lift and on the deck.
Flatiron Building & Grand Central Station While you are in Midtown, don't forget to see the famous Flatiron Building and Grand Central Station. Both buildings have featured in many Hollywood movies and the kids will love being able to say they've stood in the same place as Iron Man or Thor from The Avengers (2012) or Spiderman (2002).
Hop on Hop Off Bus New York City is a very large city, with a population of over 8.6 million people. Distances can be deceiving and a great way to see the city with a minimum of effort and in a short amount of time, while resting the weary feet of your children (and yourself!), is to take the Hop-on Hop-off bus. There are different loops available, the rides are pleasant and the guides are very friendly! The busses can quickly become full so if you want to ensure a seat while enjoying the ride, be sure to hop-on at Times Square, the departing point of the Manhattan loop.
Another great way in which to accomplish some relaxed sightseeing is to take a Tourist Cruise. Some cruises are one, to one-and-a-half-hours, which makes it perfect for your little ones. You will be able to take some amazing photos of the Manhattan skyline and get closer to Lady Liberty.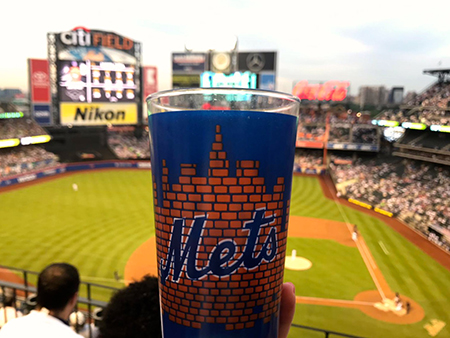 The Mets! If your kids are old enough, going to a sporting event in New York is both a fun and exhilarating experience. The atmosphere and the food are great! I went to see the Mets and had the best time even though baseball rules are a mystery to me!
The Broadway Another great indoor activity is to go to a Broadway show. Many Disney shows are played and there are enough choices to please everyone. There are shows every day of the week, both throughout the day as well as into the evening.
Museums New York City is home to some of the greatest museums in the world: Metropolitan Museum of Art, Guggenheim Museum, Museum of Modern Art (MoMA), The Whitney Museum, The American Museum of Natural History, The Intrepid Sea Air and Space Museum, just to name a few. Some are more child friendly than others, so it is a good idea to see what is currently going on at any of these museums from a child's eye perspective.
EAT!
You will easily find food everywhere in New York. Here are some good and practical addresses:

Ellen's Stardust Diner: for an original breakfast/brunch where you will be served by professional singers! The food is not the best but the experience is amazing. You can't book a table so be sure to go as early as possible.
Junior's: for a slice of famous New York cheesecake.
Carlos' Bakery: for some amazing cakes! (And for lovers of TLC's Cake Boss).
Magnolia's Bakery: for when you are looking for something a tiny bit fancier.
John's Pizzeria: for a cheap family meal. The pizzas are very large and delicious.
Planet Hollywood: is another good location for a great eating experience. The kids will love it.
If you wish to purchase groceries, Whole Foods Supermarkets offer a good range of products.
SHOP!
Most kids don't like shopping. However, here are some places they will LOVE (Amsterdam's Intertoys may look a little small and unexciting after a visit to these imagination wonderlands):

GETTING AROUND
Walk: Pack some good, comfortable shoes as you will walk A LOT! Don't forget to look up while striding through the city, water towers and fire escapes are beautiful!
Public transport: The metro is very practical. It is handy to have an idea of where you are heading geographically as you will take the metro direction of either "Uptown" or "Downtown". Most stations are equipped with an elevator.

Taxi: Yellow cabs are great, and you shouldn't miss the experience and pleasure of hailing one! You will be able to charge your phone, and even watch some New York television for the duration of your journey.
Looking for family-friendly accommodation in New York? Book your stay via booking.com/amsterdammamas and we'll receive a portion of the reservation value. Find the perfect accommodation for your family and support Amsterdam Mamas at the same time!
---
Photo credits: Main banner image from Pixabay; all others copyright permitted by Julie Mills
Julie Mills is a mum of a five-year-old little pirate. She works in tourism and likes to write and translate articles in French and in English. You can find her here: https://www.fiverr.com/juliemills.