On the doorstep of the vast Atlantic, in the far northwest of Spain, the Galicia region is a mythical land of ancient cities and villages, lush forests, and sandy beaches. It has been a pilgrimage destination since medieval times and is the embodiment of morriña (a unique Spanish term for yearning). Here's our quick guide to family adventuring in this beautiful region.
Whether you are looking for an adventure holiday or a few days of relaxation, the region of Galicia is a fascinating destination with many treasures to be discovered, like ancient cities, scattered pazos (old manor houses), hórreos (traditional stone granaries on stone stilts), castros (fortified Celtic settlements), and even folk music festivals. Galicia is both open to the influences and novelties intrinsic to being a coastal region and simultaneously enxebre (genuinely rooted to its identity).
See and Do
This port city, also known as the Glass City due to its galleries in the Marina promenade, is home to the oldest operating lighthouse in the world. Spread over 13km of seafront promenade are countless monuments, museums, parks and child friendly areas to make A Coruña a perfect place for a holiday with kids.
Be sure to visit:
The popular bonfires on the beach of Riazor on the "noche de San Juan" (Midsummer night), mark the beginning of the summer holidays, and the Fiestas de María Pita, has family friendly festivities that take place throughout the month of August.

This historical city is the capital of the Galicia region. Its origins date back to its shrine to Saint James the Great (now the Cathedral of Santiago de Compostela). It has been the final destination of the ancient pilrgrimage route, the Way of Saint James, since the 9th century.
Cathedral de Santiago de Compostela: Built over the alleged burial site of Saint James, this Romanesque/Gothic/Baroque church has a fascinating history and is open every day. Don't miss the guided tour of the roof. 25th July is the feast of St. James, with a big display of fireworks and performances.
Old Town: A Unesco World Heritage Site, Santiago de Compostela may welcome you with the sound of bagpipes resonating from the cobbled streets or perhaps by the serenading of the tunos (university students dressed in 13th century garb) playing traditional instruments in the main square of Plaza del Obradoiro. Old Town bustles with the thousands of pilgrims who still arrive every year, and it is filled with restaurants and bars, and souvenir and jewellery shops. Look for their traditional silver and black amber pieces.

Many a ship has been wrecked on this stunning but treacherous stretch of rocky coastline. It does however offer calm and safe beaches perfect for families with children. There are lovely little fishing villages scattered all along the coast line, with two especially charming villages being Laxe, and Finisterre. Laxe is an enchanting town with a lovely walk to the lighthouse. The ancient Romans believed Finisterre to be the "End of the Earth", and it is therefore the perfect final destination of the Way of St James.

Eat
Galicia offers scrumptious seafood cuisine. Pulpo á feira is the most iconic dish of Galicia, octopus served over thinly sliced potatoes seasoned with paprika. Some good eateries to sample this delicacy in A Coruña, are Pulpeira A Nova Lanchiña and Pulpeira de Melide.
If the kids balk at eating octopus, there are some other specifically Galacian tapas to look for, including: Tequeño (a warm breadstick filled with melted cheese), Pimientos de Padrón (small peppers grown only in the region of Padrón), Raxo (no paprika) and Zorza (with paprika) which are pork morsels cooked with garlic and herbs and served on a bed of crisp potato slices.
For a quick tapas pit stop try La Bombilla near María Pita Square in A Coruña.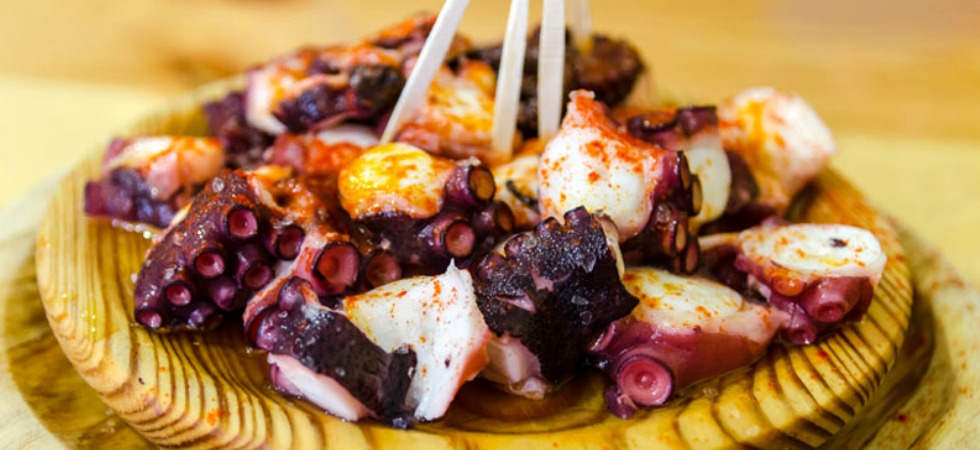 The sweet tooth in your family can indulge in Tarta de Santiago. It is a delicious sponge cake made with ground almonds and dusted with powdered sugar. Naturally, the very best are to be found in Santiago de Compostela itself!
If you are looking for a traditional Chocolate con Churros (fried batter sticks with chocolate for dipping), Bonilla Lavista will please both children and grown ups alike.
Looking for family-friendly accommodation in Galicia? Consider booking your stay via booking.com/amsterdammamas. Find the perfect accommodation for your family while supporting Amsterdam Mamas at the same time!
---
Photo credits: Costa da Morte beach, Pulpo á feira, Picasso House Museum, Santiago Old Town – Ana Rial
Ana Rial is a once rigorously-organised scientist from Spain turned into an all-over-the-place mum of two very busy half-Greek boys. She lives in Almere with her husband and kids and dreams about mastering the Dutch language, travelling, and having a personal chef.