Amstelveen is next in our Amsterdam neighbourhood series. Amstelveen is a municipality in the province of North Holland, The Netherlands. It is officially a suburb of the Amsterdam metropolitan area.
Amstelveen's location is quite convenient in terms of proximity to Schiphol airport, to some international schools such as ISA, BSA and AICS, and to 'downtown' Dam Square, Amsterdam. But the best part about it is that it is surrounded by the Amsterdamse Bos – you can simply and swiftly access the Amsterdamse Bos from several neighbourhoods / wijken in Amstelveen by biking or by walking there! Overall, Amstelveen, like many other neighbourhoods in The Netherlands, is safe, peaceful, and friendly.
The neighbourhood is quite diverse and is a fair representation of Amsterdam's cosmopolitan nature with plenty of restaurants serving different cuisines, cafes, sport clubs, grocery shops and a few shopping malls. I will list some of the more popular ones here, so keep reading!
Housing
Amstelveen is a suburb of Amsterdam, therefore houses generally tend to be bigger than the ones in Amsterdam city. In general, the types of houses in Amstelveen are called: connected houses, corner houses, apartment buildings and even some stand-alone houses.
The buildings are relatively new and the architecture is different to the iconic canal houses in Amsterdam. Streets are larger with plenty of parking spots, parking in most of Amstelveen is free of charge.
You can search for houses for rent or sale: Pararius, Funda, in addition to other platforms or with the help of a real estate agent (makelaar).
Schooling
Amstelveen has many public schools in its 'littler' neighbourhoods, in addition to a few international schools:
In terms of nurseries, the majority of them are Dutch, apart from the nurseries in the above-mentioned international schools and Hestia Amstelveen, a bilingual English/Dutch nursery.
Places of Interest / Family Fun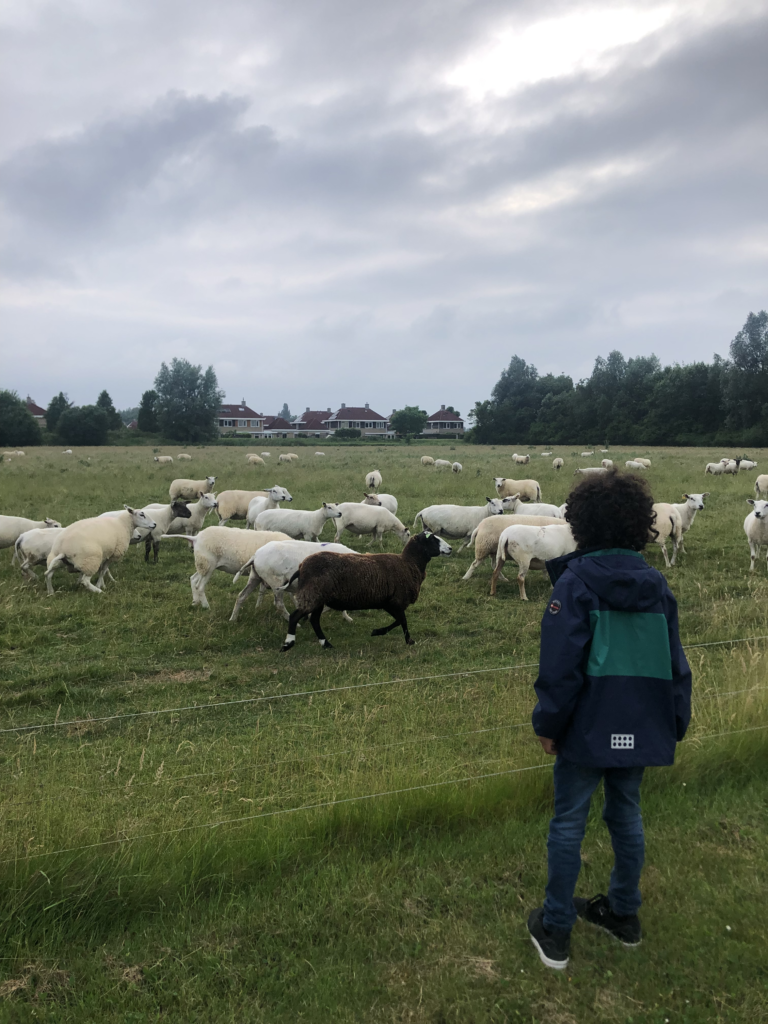 "During winter you can have a walk in the Bos and afterwards enjoy a nice cup of tea or coffee at any of the cafes in and around the Bos, Also, when it snows and it is really cold, the large lake behind the Gemeente Amstelveen freezes and often people can skate on it, IF the Gemeente puts up a sign that shows it is safe to skate here! Skating can also take place on the frozen canals and the large rowing canal in the Bos, depending on how frozen the water is."
– From the Mamas.
Daily Life
There are many 'mini parks' for each block of houses in Amstelveen – making the neighbourhood not only very green, but also very family friendly.
Grocery stores are scattered across the neighbourhoods of Amstelveen – Albert Heijn, Jumbo and Vomar, are larger supermarkets but you also find several specialised stores like India, Surinami, Japanese, Middle Eastern etc. grocery stores as well.
Amstelveen hosts a weekly Farmers market, every Friday, at the Stadshart Mall from 9am to 4pm. The market carries fresh cheeses, eggs, vegetables and fruits, fresh meat, fish, and the freshly, hand-made Dutch stroopwafels!
On Tuesdays, the mall hosts an organic market "BioMarkt", which though way smaller than the Friday market, carries only organic produce.
For shopping, Amstelveen has many small shopping centres, but you find the largest variety in the Stadshart mall.
"Don't miss the fresh stroopwafels every Friday at the Friday Markt ."
– From the Mamas.
Sports
Amstelveen is packed with sport clubs where children and adults can practice many types of sports: at Sportlaan you can find several sports schools/clubs for football, baseball, tennis, basketball or swimming, to name a few. Most of the clubs accommodate non-Dutch speakers. There is also a Golf course in Amstelveen where you can rent to play or book lessons. They have classes for children as well as for adults.
"During summer you can always go canoeing or rent a boat and for little ones. Kids love the Groot Kinderbad and Klein Kinderbad, which are outside paddling pools for young children."
– From the Mamas.
Learning Dutch
BC "Before Corona!" most of the Dutch classes in Amstelveen used to be in person, now you more easily find Dutch courses online. However, if you are looking for an in person experience you can always visit the Amstelveen public library to apply for one of their classes for Dutch, or join their weekly coffee time to practice your Dutch speaking. Registration at the public library is free of charge for children and it costs a small amount for adults. For in person classes you can also check Platform C for Dutch courses – it is located right next to the mall, the public library and Amstelveen central bus station.
Sustainability
As a neighbourhood, Amstelveen is top-notch in terms of sustainability – Most of the houses have solar panels and produce part of their own electricity; electric car chargers can be found in every corner (there are more than 100 electrical car chargers in Amstelveen); you find underground containers for garbage; and, in each block there is a block of 4 containers for Paper, Glass, Textile and PMD. There are frequent and consistent initiatives for 'Green Amstelveen' which help to make the neighbourhood become even more environmentally friendly. The Gemeente (municipality) of Amstelveen subsidies solar panels for houses and offers support to its residents to encourage the use of green and alternative energy. You can check the latest sustainability efforts at this link.
---
For impressions from other parts of the city, check out the other articles from our Amsterdam Neighbourhood Guide Series.
Image Credits: Ghada Salem
Ghada Salem is a member of the Amsterdam Mamas content team and the founder of Mums in Bahrain. Mother of 3 boys and now residing in Amstelveen, Ghada recently started documenting her trips with the boys @Surahbyg.