We kicked off our Living Sustainably series with Single-use Plastics, and now we are moving on to fashion. That we have toxic wax and pesticides in our food and plastics in our water is fairly well known , but our clothing and household goods? Here are some tips and resources for enjoying fashion and design in a sustainable, earth-friendly way.
In keeping with my healthy lifestyle, I do yoga and get to the gym. I don my yoga pants or super comfy, super stretchy tights for these active-lifestyle activities, because that's just what you wear to these events. Unfortunately I discovered that the very thing making me comfortable is non-biodegradable and is just a different form of plastic. Aaargh! So in my drive to use less plastic in my family life, I find I have to learn about plastics in retail and fashion too.
The Problem
The apparel industry makes up 10% of global carbon emissions and is the second largest industrial polluter. Clothes containing Lycra, Spandex or polyester – all of which are made from petrochemicals – release plastic microfibers into the water every time they are washed. These microfibers pass unfiltered through most sewage treatment plants and end up in the water supply and in the sea. This plastic is ingested by fish, who may, in turn, be eaten by humans. So the microplastic enters our body and can have negative effects on our health.
Fast fashion utilises fabrics like Lycra and polyester over natural fibres because of the cost; however, these synthetic fabrics have a short life so one is forced to keep buying new clothes to replace the old. While the use of Lycra or spandex is understandable if done sparingly, their addition to virtually every garment is putting unprecedented pressure on landfills as it is virtually non-biodegradable and releases harmful greenhouse gases like methane as it breaks down. The 2015 Netflix documentary True Cost highlights the environmental issues surrounding fast fashion.
What You Can Do
Choose fabric wisely. While there are pros and cons to every type of fabric, going for natural, organic fabric is a safe bet.
Repurposing. Instead of binning your old garments (Lycra, polyester, cotton or any other), repurpose them! Old t-shirts make for excellent dusters, cleaning rags and shoe shines. The soft fabric is ideal for storing bags and shoes. You could even repurpose them into cute doggy costumes! In the Netherlands, what is not suitable for repurposing can be recycled; every gemeente (municipality) has its own textile recycling stations. The Salvation Army (Leger des Heils) has textile and shoe collection containers all over the country.
Swap! A new and very innovative idea to minimise buying/use of fast fashion is a 'clothes library'–shops where you can borrow clothes and swap them for new ones. This innovative idea was put into practise in Amsterdam in 2014 by a Dutch startup called Lena.
Buy sustainable brands. If borrowing clothes is not your thing, there are many up-and-coming boutiques in Amsterdam that offer a variety of international brands with sustainably produced clothes and accessories:
Vegan leather. The idea here is that fashion should not be harmful to the environment. Consider leather goods. Can we genuinely say they're harmless? From the animals themselves, to the local bodies of water which the tannery pollutes, to people working in the tannery exposed to toxic chemicals, the mass production of leather leaves no one unharmed. To meet rising demand, manufacturers adopt quicker and often unethical shortcuts. Dog leather (yes, you read that right!) is often used as a substitute for cow hide leather. There's no easy way to tell once the product is made and being sold in shops.
Luckily, there are many brands who are saying no animal leather and going vegan instead. Dutch fashion brands like Vega life, Osier, Levi Jones and Denise Roobol are game changers in the leather goods industry. Other include Matt & Nat, Stella McCartney, Freitag, O My Bag and Rains.
Household Retail
Our parent's and their parents' generation used to furnish their homes with longevity and practicality in mind. With increased buying capacity and availability of mass produced – and therefore, cheaper – furniture, fast fashion has seeped into home furnishings. Living spaces must keep up to date with rapidly changing trends; old gets discarded for the new–often as regularly as twice a year! This puts unprecedented pressure on manufacturers of leather, wood and synthetic fabrics: animals reared just for their skin and non-food cash crops replacing food crops. Production and transport of these goods leave a carbon footprint much bigger than your living room! It's a disastrous and unsustainable trend.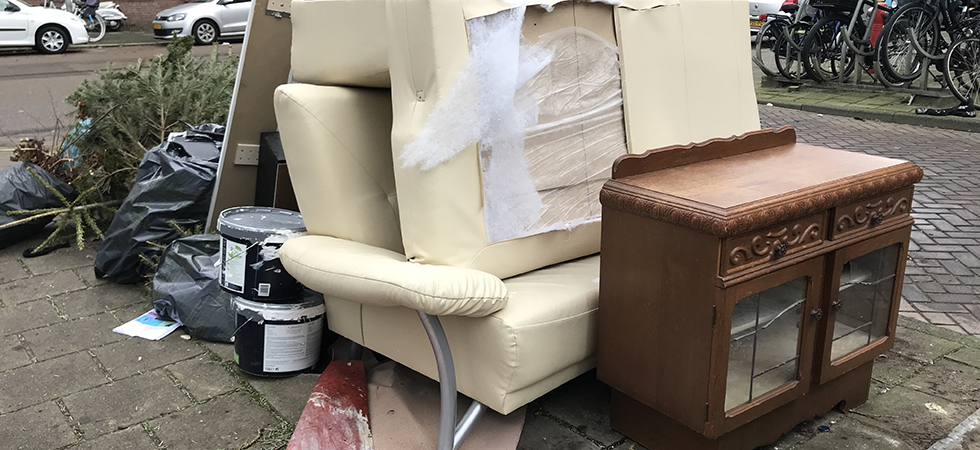 In landfills, discarded home furnishings and furniture release chemicals like formaldehyde, flame retardants, and fiberglass, permeating the surrounding soil and any nearby water.
Understandably, reading through the above makes it look like we are entering apocalyptic times, but losing hope is not the way to go. There is a lot that we can do, one step at a time. The first one always being Reduce. Honestly, life is going to go on just as well without following every fashion trend that is out there. Let that couch or table or bed be! If you are bored with it, spruce it up with new cushion covers or a throw. If you feel the furniture isn't YOU anymore, be kind and donate it so someone else can use it. There are many second hand shops (Kringloopwinkels) in every locality. Most will collect heavy items from your house.
There are many stores in and around Amsterdam that sell sustainably sourced furniture and accessories. The concept of refurbishing/repurposing is an old one but it is being used in a new and innovative way by Concept stores like Gekaapt, Restored, Raw Materials, Stylesis and Het Fair Oosten leading the way in sustainable retail.
Sustainable Inside and Out
In closing, let's not forget food retail! The first article in this series covered the pervasiveness of single-use plastic in grocery stores, but luckily for those of us in the Netherlands, we have plenty of opportunity to shop for groceries that are locally and sustainably produced from local markets and bulk stores that do not use mountains of plastic packaging. Fresh fruits, vegetables, breads, meat, oil, tea, coffee, soaps, etc can be bought at open markets and bulk stores such as Biologische Noordermarkt, Linderngrachtmarkt in Jordaan, Pure Markt in Amstelpark, Amserdamsebos and Frankendael Park, Albertcuyp Markt, Sunday Market Westergasfabriek, Westerpark, Simon Levelt, Oil & Vinegar, Delicious Food and De Markt Van Amstelveen. You can bring along your own containers and reusable bags to these to avoid use of plastic packaging.
If we each take responsibility in shifting our own behaviour, we can trigger the type of change that is necessary to achieve sustainability for our race or this planet. We change our planet, our environment, our humanity every day, every year, every decade and every millenia. – Yehuda Berg
---
Photo credit: Freepik, Audrey Coggins
Amrita Suri, a regular contributor to our Sustainable Living Series, is a freelance writer with a passion for sustainable living, animal rights, and reading.