What better way to spend the 12 Days of Christmas than town-hopping around northern Italy? Julia Smile did just this and found Christmas markets, mountains, cosy farmhouses, castles, and even a two-horse open sleigh!
A great destination for family travel all year round, northern Italy is particularly charming during the Christmas holidays. Beautiful Christmas markets brighten the towns and snow is falling in the higher elevations; it is magical. The fabled Italian love for family and children is also true! Our small daughter was showered with hearty smiles and sweet words: "Bella", "Bellissima", "Bimba" greeted us on cobblestoned streets, hiking trails, even while sitting in trattorias (less formal than a ristorante but more formal than an osteria). Speaking of which, Italy's cuisine is scrumptious, even for the pickiest toddler!
This beautiful old city is the famous setting for Shakespeare's Romeo and Juliet. Could he ever have imagined his tragic tale of young lovers would be played off the stage as well as on? Casa di Giulietta (Juliet's House) is crowded with tourists anxious to capture a selfie on her famous balcony and the walls under it are covered with lovers' scribbles: pledges, promises, wishes, heartache … it's all there.
As Verona is a small city, you can easily explore it in a day or two. We enjoyed the best pizza of our life at Don Peppe Pizzeria e Trattoria in the huge mall Adigeo (a shopping paradise and very child-friendly: kids' washbasins, playgrounds and a playroom for kids 3+).
We visited this charming village during a day trip from Verona. It took us about two hours to see this town, including having lunch at one of the local restaurants. Fortunately, as it was the festive season, there were bustling and colourful Christmas markets everywhere.
In mountainous Pellizzano we decided to try an Agriturismo: a genuine, working farm! It's a popular thing in Italy, ideal for nature lovers and tourists craving the quiet and serenity of rural life. Our farm accommodation had a wooden interior, a heated bathroom floor, hearty dinners, and smiles. The highlight though was riding in a two-horse open sleigh! Dashing through the crispy snow surrounded by rolling hills is romantic and peaceful! Sadly, our visit was cut short as there was heavy snow forecasted which could have trapped us in one place if we did not leave before the storm (read about snow tires in Notes below). Be aware that in rural areas not knowing any Italian, communication can be difficult. Google translate doesn't always cut it.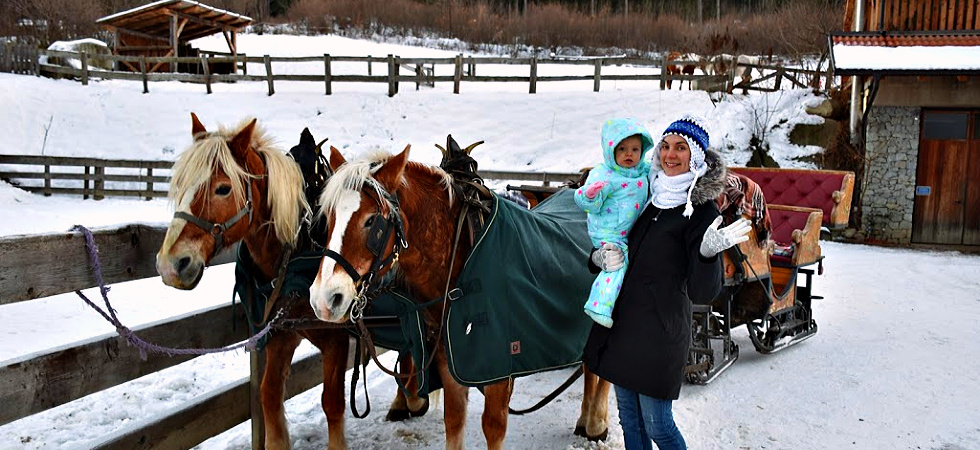 Trento is famous for its Christmas market; try the treccia mochèna (plaited pastry cake) and the polenta brustolada (grilled polenta). Trento also offers two wonderful museums that are great places to escape the cold.
Enjoy ancient frescos, carved ceilings, Egyptian and other collections. Not a lot for the youngest visitors (our daughter was napping in the backpack, fortunately) but older kids may find exploring a castle entertaining!
This little gem has everything you could wish for a visit with a child: interesting exhibits, themed floors, WC's with changing facilities and kids toilets, kids play areas, interactive exploration activities for bigger kids and adults, and lectures about the exhibits and artefacts in the museum.
These towns are little Austria of Northern Italy. The architecture, Christmas markets, cuisine; everything looks and feels Austrian. They even speak German here! Grab the opportunity to enjoy typical Austrian pretzels and white sausages without actually leaving Italy.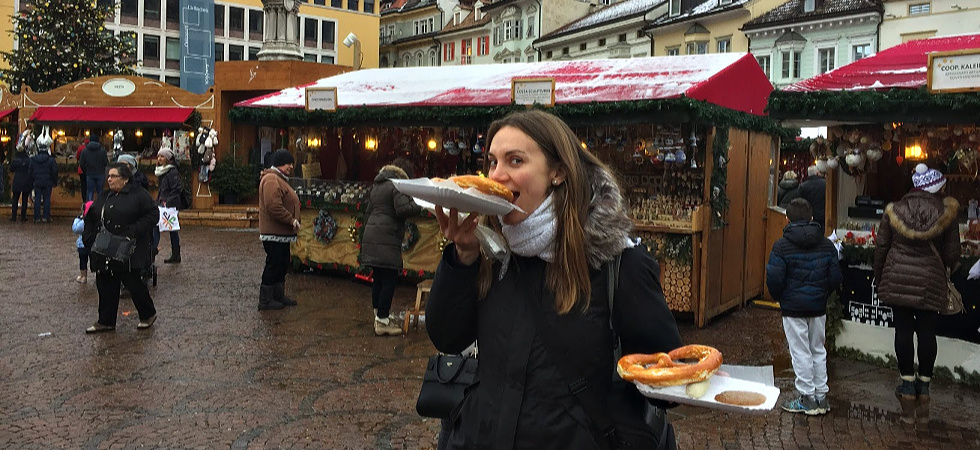 Street food is a must at the Christmas markets but when it's cold, sooner or later you'll need to find a place to warm up and eat something more substantial. The kid-friendly restaurant Aida is easily distinguished from outside by a row of buggies next to the entrance. They don't have a play corner but do have high chairs and a baby changing facilities.
For New Year's Eve and Day, we found an exceptional place which is reasonably priced: an ancient castle transformed into a stylish apartment hotel with picturesque views of the mountains and vineyards from all the windows. What could be a better and more romantic place to welcome the New Year? Our accommodation was so snug that we didn't even feel like leaving that beautiful castle but we ventured out for a couple of walks around the nearby lakes.
Walking around the Lago di Ledro took us about 2.5 hours with our toddler sleeping in the backpack carrier. The lake is at an elevation of 650 meters and it is several degrees colder than in Riva del Garda, with snow and ice all around. On our way we came across several playgrounds, on frozen beaches and in empty camping sites, all the houses and restaurants were either empty or closed. Obviously, this area is geared towards summer holidays.
On New Year's Eve day we walked for two hours on a trail along Lago di Garda. The lake is huge and exquisite, and walking next to the mist-covered lake is pure pleasure. This trail is popular, even on a cold Winter's morning.
Ristorante Acetaia Del Balsamico offers beautiful views and delicious food, and its amazingly child-friendly waiters make it even more special. The restaurant offers its own home-made olive oil and 7-year old balsamic vinegar for sale – perfect for gifts.
Notes
Winter tires cost extra, but as the winter weather can make driving treacherous in the higher elevations, it's a good idea to request them from your rental agency.
Eating out in Italy requires some planning, particularly during holidays. Most restaurants are open from 12 pm – 2 pm and then after 7 pm, and on New Year's Day, only fast food places are open!
Restaurants normally collect a coperto (cover charge) from every person at the table, including children. It seems strange at first that children pay the service fee but when you look under the table after the meal, you wonder why children don't pay double!
Looking for family-friendly accommodation in Northern Italy? Consider booking your stay via booking.com/amsterdammamas. Find the perfect accommodation for your family while supporting Amsterdam Mamas at the same time!
---
This article is based on a post from Julia Smile's blog Frogs in the Box.
Julia Smile is an expat mother who is passionate about travelling with her family and writing about these exciting experiences in her blog. Her other passions include reading and dancing. More about Julia and her family travels in her blog and Instagram.