Seville will enchant you: the light, the fragrance of orange blossoms, the sound of the Spanish guitar, and the cheerfulness of its people. This ancient yet vibrant city, home and inspiration to many of Spain's greatest artists, is loaded with family-friendly things to do and see. Here's a quick guide to some of the best of Seville. (Updated by the Editorial Team, Jan 2019)
Seville is the capital of southern Spain's Andalusia region. (Not to be confused with Andalasia, the magical world of the Amy Adams movie Enchanted!) It is a three-hour flight from Schipol (non stop).
It is a historic area, packed with gothic palaces and churches, a street-food culture and vibrant culture. It is no wonder that Lonely Planet ranked it as its No.1 top city to visit in 2018. The locals, the sevillanos, are a passionate people, judging from their love of food and the passionate flamenco dance.
Interestingly, the Seville orange, the main component in marmalade, is not from Seville! Also called the bitter orange, this fruit is native to southeast Asia. Due to the good growing climate, it has become a major importer of the Seville oranges to the UK for marmalade production. It is actually rarely served in Seville.
Top Five Places to See
The Alcazar Palace
Other places of interest: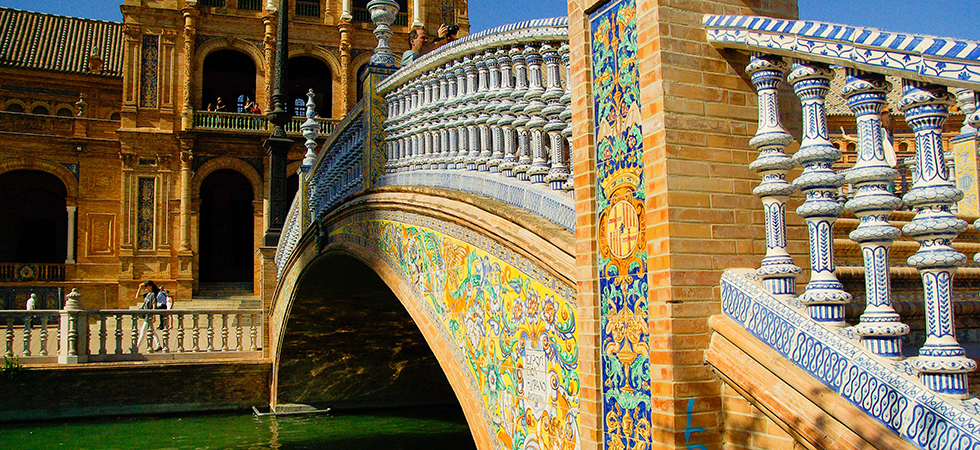 A beautiful bridge in the city centre with its colourful ceramic tilework.

Top Five Things to Do
Other Activities:
Eat
With over 2,000 restaurants to choose from, Seville does not lack for culinary delights! Here are a few that come recommended by the locals:
Helpful Tips
During the summer, avoid venturing outside between 2 and 5 pm because of the high temperatures. During these times, it is a good idea to make a trip to a shopping centre or department store with air conditioning.
El Corte Inglés: a heavenly department store where you can find anything from groceries to toys. Usually one entire floor is dedicated to each member of the family. There are five locations around the city.
Shopping centre Nervión, just by the football stadium of Sevilla F.C. Sánchez Pizjuán. Calle Luis de Morales, 3.
Shopping Center Los Arcos. Av. de Andalucía, S/N.
Getting Around
Bus: the preferred method of locals, it has an extensive network, with NFC services in most stops.
Metro: one line that takes you directly through the heart of the Seville's historical area and is, in itself, a wonderful journey.
Bike: renting a bike in one of the 250 stations spread around the city is a fantastic way to get to know Seville.
Looking for family-friendly accommodation in Seville? Consider booking your stay via booking.com/amsterdammamas. Find the perfect accommodation for your family while supporting Amsterdam Mamas at the same time!
---
Photo credit: Banner image from Pixabay
Ana Rial is a once rigorously-organised scientist from Spain turned into an all-over-the-place mum of two very busy half-Greek boys. She lives in Almere with her husband and kids and dreams about mastering the Dutch language, travelling, and having a personal chef.