The capital city of Germany oozes history and culture, and with its abundant attractions it won't be a problem to keep the youngest member(s) of the family occupied. Here's our quick guide to visiting Berlin with kids.
Do and See
The Berlin Cathedral There are fewer iconic images of Berlin than the beautiful Cathedral (pictured above). The architecture is predominantly baroque and features the church's original tripartism: The Baptismal and Matrimonial Church (Tauf- und Traukirche) to the south, Sermon Church (Predigtkirche) in the middle and the Memorial Church (Denkmalskirche, demolished in 1974) to the north.
Zoos There are two zoos in the city – one in West Berlin called Zoological Garden and one in East Berlin called Tierpark. With the help of AM members, I chose to take my boy to the latter, which is a huge park where animals have more space. I purchased tickets in advance, which saved us time and was pretty easy. Tickets are far cheaper than the zoo in Amsterdam and you can picnic in the massive park, have a warm, freshly-baked pretzel, enjoy seeing some animals you may not have seen in any other zoos and even take a free train ride around the zoo. Wherever in the city you stay, it should be easy to get to Tierpark, as it is easily accessible by metro. You walk up the stairs of the station (same name) and voilà! – the entrance is right in front of you.
The Berlin Wall: Younger kids may not fully understand the story, but I think no age is too young to learn about history by visiting the remnants of the Berlin Wall and Checkpoint Charlie. Plus the soldiers at Checkpoint Charlie are fascinating for kids. My boy was too shy to stand and have a photo taken with them, but they were quite fun.
The Brandenburg Gate (Brandenburger Tor) and the streets around it are very interesting. Kids can run around there and you can have a beautiful family photo taken under the gate, as a souvenir. The multimedia museum allows you to see through time, from revolution, wartime and peacetime, divided Germany, reunification to the rapid development of the city.
Berlin Natural History Museum (Museum für Naturkunde Leibniz-Institut für Evolutions- und Biodiversitätsforschung) has an impressive exhibition for dinosaurs amongst other natural history displays.
360 Berlin: For an amazing panoramic view of the whole city, this is the place to visit. You take the lift and within 40 seconds you are 203 meters high in the sky!
MACHmit is a wonderful children's museum, where there is plenty for children to discover and do.
Flea markets Visit the Sunday Flea market at Mauerpark, a fun activity for both locals and tourists, and it owes part of its fame to the karaoke sessions which take place in the park's amphitheatre.
Play
Playgrounds There seems to be one around every corner, particularly in the Prenzlauerberg neighborhood. My son loved the play area on the Humannplatz. Not only is the place amazing for kids, there is also a wonderful organic café at the entrance, called Bornträger, which is run by a local mama. I went there one Sunday morning and got lost in the wonderful scent of freshly-baked cakes.
Adventure playground is for older kids (6-16), where you can leave your child with the childminders, while you enjoy a cuppa or a glass (of wine?) at one of the cafés close by. And as a cherry on top of the cake, it is free of charge! Did somebody say free babysitters?! Next door, there is also a small playground for younger kids where you can see cute and quite large rabbits.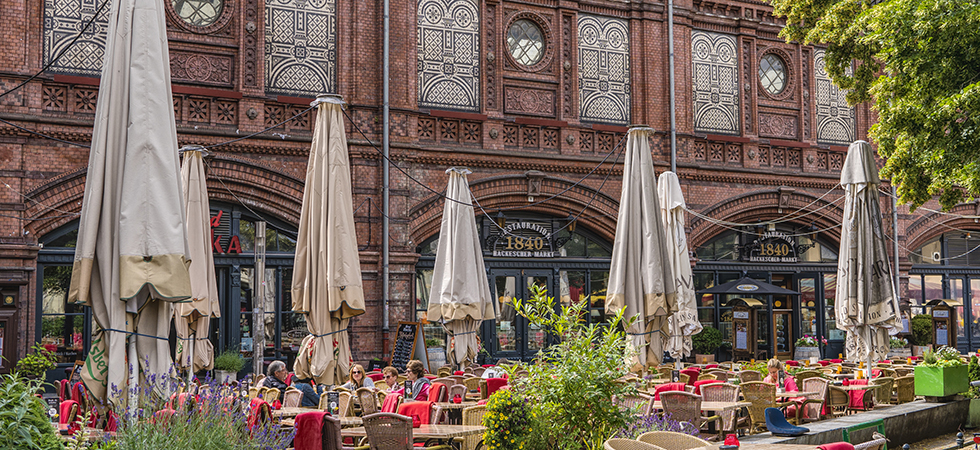 Eat and Drink
Currywurst Amsterdammers have stamppot… the Berlinners have the "Currywurst", which is a sausage with a sauce of tomato and curry and often quite spicy. The best neighbourhoods for dinner time are Prenzlauer Berg and Kastanienallee where you can find some wonderful restaurants.
Clarchens Ballhaus is an old-fashioned dance club which also has a lovely restaurant, popular with families, with a wonderful garden where you can enjoy your meal. The hall inside has an old disco ball which your children will love. There is a small playground opposite.
Osmans Toechter: you will come across many döner kebab places in Berlin that are not very appealing, but in this simple – but refined – Turkish restaurant everything tastes divine. From small starters to main courses, to the home-made pudding (which they offered specially to my son), to the Turkish wine. My son also received a colouring sheet and colour pencils on top of all the personal attention he got from two lovely women running the restaurant.
Pasternak is a Russian restaurant serving lovely food, which you can enjoy on their beautiful terrace or inside gazing at the candlelight and old photos. There is a wonderful playground just around the corner.
Ritter Chocolate flagship store: For the chocolate lovers. In addition to their great-for-kids "museum" section, you can order your own chocolate creation at their chocolate bar and pick up a bag of heavily discounted mix-and-match bars.
Transport Tips
Walk Berlin is a pleasant city to stroll around. You often pass parks and fun shops walking from one destination to another.
Public transport For further afield, the U-Bahn and S-Bahn are a good option. Discount rates apply to children aged 6-14, while free for children under 6. There are also daily and weekly passes available, which might be beneficial to you depending on how much you plan to use public transport.
Uber/taxi Taking a taxi is fairly affordable in Berlin, and Uber is now also available.
Looking for family-friendly accommodation in Berlin? Consider booking your stay via booking.com/amsterdammamas. Find the perfect accommodation for your family while supporting Amsterdam Mamas at the same time!
---
Photo credit:
Banner image from Pixabay.
Berlin wall image from Pixabay
Outdoor cafe image from Pixabay
Flea market image from Pixabay
Mèdia Donyadari-van Westering
Originally from Iran, Media is married and is proud mother of Roham. She holds a BA in English Translation and an MBA with the University of Liverpool. In 2012, after working for 13 years in aviation and education, Media decided to stop working full time and enjoy more time with her son, who was growing up fast. One year later, she started her own business called Joys of Life. She loves travelling, cooking, reading, writing and photography.