In this instalment of our Quick Guide series, former resident Ana Rial provides some insider tips on where to go when visiting Athens with your family.
Wandering the streets of Athens has an implied solemnity of following the footsteps of great philosophers, mathematicians, and wise men from history. Witness the remains of the ancient world scattered around the city, both in plain sight and in delightfully hidden spots. In addition, markets, food, sun, and coastal pleasures will make your trip to Athens an exciting adventure of discovery.
Top Places to See in the Heart of Athens
1. In the epicentre of the bustling city, The Acropolis sits on a rocky outcrop. Here you can see major archaeological remains of the Parthenon, the Erechtheion, the Odeon of Herodes Atticus, which still holds live performances, and the theatre of Dionysus Eleuthereus. Athens Insiders is one company that specialises in a variety of tailor-made tours for little ones. They have a child-friendly Acropolis tour with games and stories led by an archaeologist.
2. The Acropolis Museum has fun activities and games for the family. The assistance of an archaeologist host is also available. Don't forget to admire the original famous caryatids. General admission fee of 5€, free admission for children under 18 years old from EU countries.
3. Round the edges of the Acropolis you will find three main areas to stroll through: Plaka filled with souvenir shops and little tavernas (restaurants with traditional Greek cuisine); Anafiotika, a little village with a Cycladic island feeling bursting with bright magenta bougainvillaeas and aromatic jasmines; and Monastiraki, a flea market neighbourhood.
4. Free and within a short walk of each other, you will find: the changing of the evzones (guards in traditional Greek uniforms) on the hour at the Parliament building in Syntagma Square; imposing Hadrian's Arch; lovely pools, plants, and play areas in The Botanic Gardens, and the Panathenaic Stadium, the original Olympic Stadium. The gargantuan Temple of Olympian Zeus is also in this area. You can view many of the historic sights while walking by, or for small fees (children often free) you can go up close and look around. A combi-ticket of seven sites is also available and can be purchased at the sites.
5. Underground museums display treasures discovered when expanding the city's subway system. Archaeological remains, as well as beautiful modern Greek art, can be seen at a number of central metro stations. Check out Travel Greece Travel Europe for loads of tips and descriptions of free things to see and do in downtown Athens as well as Athens Info Guide for more exciting ideas to explore Athens with children.
On the Coast

1. From Piraeus, the biggest passenger port in Europe, you can hop on a ferry and spend the day on one of the nearby islands. Hydra and Aegina are popular for families because of their shallow waters and quiet beaches. With Flying Dolphins or Hellenic Sea Ways, the ride to Aegina takes only a half an hour, while Hydra is an hour and a half away. In Aegina there is a water park and a wildlife hospital, as well as the opportunity to taste their famous pistachios. Vehicles are forbidden on the quaint and lovely island of Hydra but you can enjoy a donkey ride through the streets of the main village instead.
2. For a little break from archaeology, Flisvos Marina is a perfect place to let the kids blow off some steam in the extensive playground area.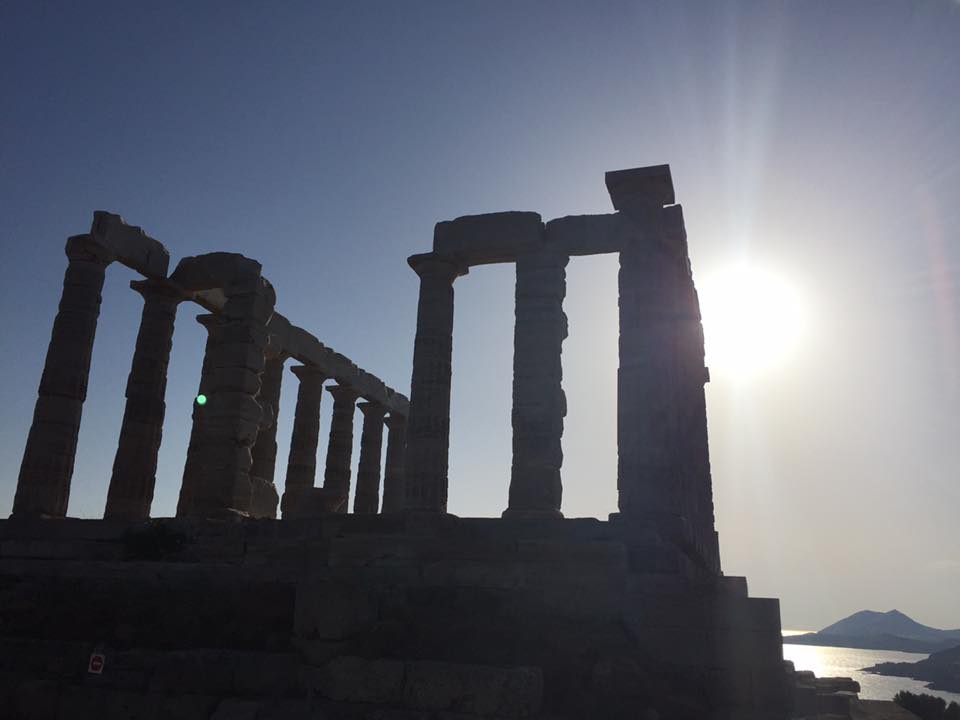 3. Get hold of a colourful caftan from family-run Krasanaki, pick an inflatable for the kids in Moustakas, and you are all set to enjoy the Athens Riviera beaches, from Glyfada to Vouliagmeni. Venture a bit farther to Anavissos, where you can windsurf at the Kouros Club or go snorkelling with Athens Divers. Water sports abound along the Attica peninsula.
4. Sunset at Cape Sounio is the best time to appreciate the impressive Temple of Poseidon, the god of the sea. Along with the Parthenon in Athens and the Temple of Aphaia on Aegina, the Temple of Poseidon in Sounio form what is known as the Holy Triangle of antiquity. There are little restaurants and the kids can run a bit, plus Greek mums-to-be say the place has a "magical" quality, with lots of positive energy.
Restaurants and Cafés
Enjoy Greece's strong culture of cafés and tavernas. On every corner, one can stop to enjoy a frappé (a foam-covered iced coffee drink) or delight the palate with a Mediterranean menu, perhaps starting with a teaspoon of submarine (a traditional soft fondant served on a spoon submerged in a tall glass of cold water).
It would be impossible to enumerate the hundreds of establishments spread around the city, but here are a few that are worth trying.
1. In the very heart of the city, Othanasis is always welcoming. It is a total classic, known among the locals for its kebabs and souvlakis. Mitropoleos 69, Athina
2. Resembling a beach house, each room of the Balux Cafe has a different setup. It is a perfect base when spending a day by the beach and it accommodates the desires of all the different members of the family, with its game room, playground, and library. Β58, Vasileos Konstantinou, Glyfada
3. Anafiotika comes highly recommended: a restaurant café that will enchant you with its views of the Acropolis and live music whilst dining. Mnisikleous 24, Athina
4. After enjoying a healthy Mediterranean plate, it is time to indulge in traditional Greek sweets, a certain winner with the kids. Try the specialty chocolate pastries at O Tasos. Honey and custard-based sweets are also in high demand. Maragkou 6, Glyfada
Transport
With an urban population of more than 4 million, Athens has a modern mass transit system, including buses, electric trolley-buses, metro, tram, and suburban railway. Purchase a city pass, allowing you to move about quickly and skip all the queues and fuss at tourist points.
In Athens, like in the rest of Greece, everything is about the little pleasures in life: the healthy Mediterranean cuisine, the views of the sea and the warmth of the sun, or the agitated discussions about matches of the major football clubs Olympiakos and Panathinaikos. Experience Athens with all five senses, enjoy the hospitality of its people and see some of humankind's greatest relics.
Looking for family-friendly accommodation in Athens? Book your stay via booking.com/amsterdammamas and we'll receive a portion of the reservation value. Find the perfect accommodation for your family and support Amsterdam Mamas at the same time!
---
Photo Credits: Lori Evans, Ana Rial
Ana Rial is a once rigorously-organised scientist from Spain turned into an all-over-the-place mum of two very busy half-Greek boys. She lives in Almere with her husband and kids and dreams about mastering the Dutch language, travelling, and having a personal chef.