Located only a 15-minutes train ride away from Amsterdam's Centraal Station, the lovely city of Haarlem is a great place for a day trip.
Founded back in the 13th century, Haarlem has not only plenty of historical sites and museums but also restaurants, bars, and other fun things to do. It is home to the oldest museum and the oldest public park in the Netherlands. It was also proclaimed the best shopping city in the country, many times. Needless to say, it has something for everyone.
What to See?
Grote Markt: The main square, filled with many cafés and restaurants, is the true heart of the city. At its center lies the medieval St. Bavo Church, one of the most beautiful churches in the Netherlands. On the other side of the square is the City Hall, in which the Tourist Information Center is located. There you can find events agendas, walking and boat tour information, and other handy information about the city.
Frans Hals Museum: Frans Hals, the famous Dutch Golden Age painter, lived and worked in Haarlem. If you would like to learn more about him and the most famous period of Dutch art, this museum shouldn't be missed! It offers many activities for young visitors as well, like the picture hunt (booklets available in English) and the doll house gallery.
Teylers Museum: The oldest museum in the Netherlands is located in a beautiful, classical house on the Spaarne River. It contains a number of works by Michelangelo and Rembrandt, and also a natural history collection. Every Sunday, free family workshops are organized here.
De Adriaan Windmill: The original windmill was built at the end of the 18th century, but after it burnt down, it was rebuilt in 2002. There is a small museum inside it and a nice restaurant with a great view of the canal.
Explore the History of Haarlem
Haarlem is a city with an interesting and long history which goes back to the Middle Ages. You can have a quick history tour by following some of the statues of its famous citizens.
Kenau (Stationsplein): In front of the Haarlem's train station, there is a statue that represents Kenau and Wigbolt Ripperda. Kenau was a 16th-century wood merchant who led a group of women in defending the city during the Spanish siege of Haarlem in 1573. The 2014 Dutch movie Kenau was based on her story.
Laurens Janszoon Coster (Grote Markt): Next to St. Bavo's Church there is a statue of the alleged inventor of the printing press. He said he invented it at the same time as Gutenberg, but couldn't prove it. However, some people regard him as the true inventor.
Frans Hals (Florapark): The statue of one of the most famous painters of the Dutch Golden Age, who lived and worked in Haarlem, is located in Florapark.
Green Areas In and Around the City
A lot of attractive parks, green areas, and children playgrounds are located around the city.
The lovely Bolwerken and Kenaupark are just next to the train station, and there is a fenced playground right in the city center (Wilsonsplein).
Haarlemmerhout: The oldest park in the Netherlands is still one of the biggest green areas in the city. Only 15 minutes walking from the main square, it is a great place for children to play. The park has a little zoo (kinderboerderij), a nice pancake restaurant, lots of walking paths, and a playground for children. Just next to it is a large La Place restaurant, perfect for a lunch after the time spent outdoors.
Kenemerland: If you are up to some serious dune walking, then visit Kenemerland National Park! It has many bike lanes, walking paths, and nice scenery dotted with beautiful lakes. Some very nice restaurants are also located here, with open areas for kids to play.
Go to the beach: The sea and a huge sandy beach are only 20 minutes away from Haarlem train station (take bus 81 or the train to Zandvoort aan Zee, both departing from the Train Station). It's the perfect way to spend a sunny afternoon.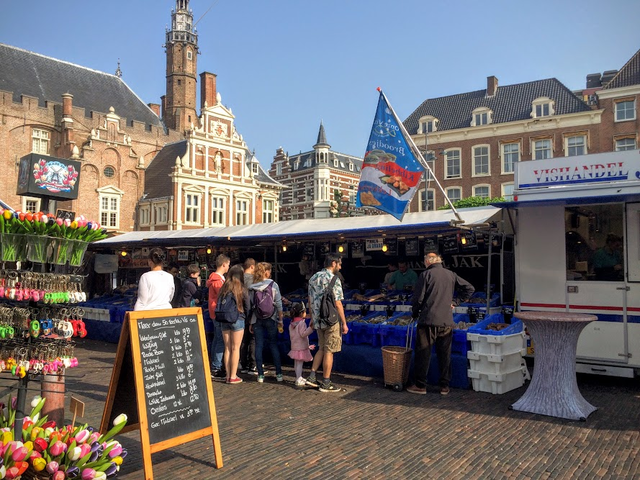 Shopping
Haarlem has been named best shopping city in the Netherlands many times, and you will find many different shops, conveniently concentrated in a small area.
Children stores: On the main shopping streets (Kruisstraat-Barteljorisstraat-Grote Houtstraat) there are four big stores with children clothes and toys. Maneer Paprika has a wide choice of high quality toys. There are other local shops offering children clothes, but my favorite, Kiekeboek, specializes in children's books.
Saturday Market: Every Saturday, there is a food market organized in the Grote Markt. It is a great place to find some good quality cheese, fish, meat, vegetables, or freshly made stroopwafels. There is a smaller market at Botermarkt that offers a wide choice of organic products.
Where to Eat?
Most of the cafes and restaurants in Haarlem are child-friendly and offer high chairs and changing tables. Here are some of the most popular places to eat in the city:
Pippa's: This child-friendly restaurant, with a huge indoor playground, is located next to the train station. It's very spacious, so it's never too crowded. The food is delicious as well; everything is organic and they have a good children's menu. (Stationsplein 64-66)
Jetties: The same owners as Pippa's also run Jetties, so the menus are very similar. It is slightly smaller, but closer to the city center. (Kruisweg 57)
La Place: Situated in a green area of Haarlemmerhout, La Place is a large restaurant with biological food. They offer soups, sandwiches, grilled vegetables, salads, nice desserts, and freshly made juices. It is a great place to go if you are in Haarlemmerhout park. For kids, they have a nice outdoor playground and some coloring books and crayons inside. (Fonteinlaan 1)
Maneer Paprika: Located just around the corner of the main square, Maneer Paprika is a restaurant with a children's playground and a toy store in one. It is a very popular place in Haarlem, so it can get a bit crowded at weekends. If you would like to explore the city on bike, you can rent one here (they have both bakfiets and bicycles with children's seats). (Koningstraat 19)
---
Photo credit: top image Yay Images
Other photos: Tea Gudek Šnajdar
Tea Gudek Snajdar is a travel blogger, museum docent and a mum of an adventurous little boy. You can read more of her traveling tips and ideas on Tea's blog, Culturetourist.com.