There's more to Amsterdam than the brick jungle of narrow streets and shuttered houses shown on postcards. Its abundant green space offers tremendous opportunity for rugged outdoor exploration…
Whether it's climbing through the treetops on rope bridges, rafting across ponds, trapping water creatures, or building wooden shelters, Amsterdam's playgrounds offer many possibilities for outdoor adventure. Here are our top ten favourite spots.
The Natureluur aims to stir an active passion for nature in its young visitors. Children can create their own adventure stories while exploring the Natureluur Nature Playground. Crossing bridges to follow forest paths, testing their footing on tightropes and fallen trees, or rafting across the waterways. They can also participate in a variety of low-cost activities designed to capture their imaginations while introducing them to the park's plant and animal life.
Open to the public. Scheduled activities are posted on their website.
Designed for unsupervised learning through free imaginative play, wild nature dominates the remnants of urban industry visible on the site of Het Woeste Westen. Children can experiment with sticks, stones, sand, and flowing water, as well as live plants and creatures. Young visitors can also swing or raft between marshy islands, hide among tall reeds, catch aquatic animals, or jump from stump to stump in the shade of willow trees. The monitored campfire and basic café provide places to dry off and warm up. Periodic activities include baking bread over the fire and adventure camping.
Open to children under 13 years; children under 7 years require parental supervision.
The largest adventure park in Amsterdam, Jeugdland is a playground, a construction site, a petting farm and an outdoor learning center all in one. Here, on the shores of the Nieuwe Diep harbour, young innovators can test the laws of physics by constructing shelters, moon-rockets, or whatever they can design from wooden pallets and scrap lumber. Nearby, children can build dams or raft in the water, swing on a cableway, or pet rabbits and ponies. Free weekend workshops teach homesteading skills, from gardening to experimental cooking to windmill design. View the safety dress code, age requirements and activities calendar on their website before heading out.
Open to children under 14.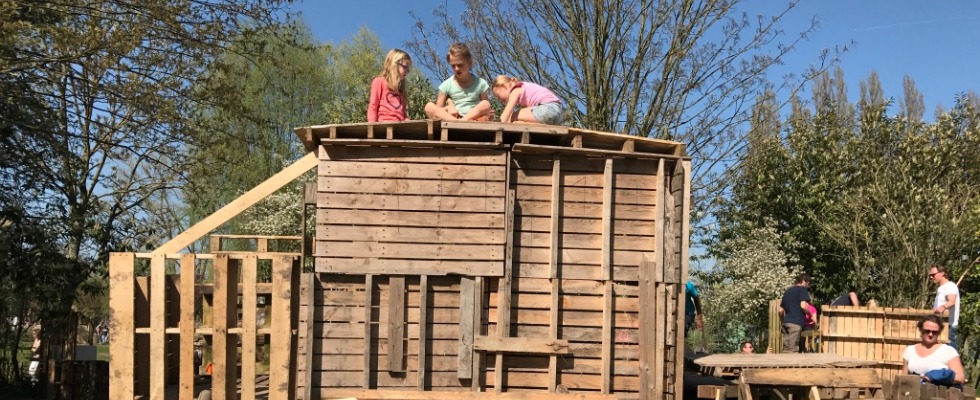 For 45 years, Het Landje has provided children with the tools and materials to construct their own cabin-village in Rembrandtpark. Confirmed swimmers can swing across the pond on a cableway, while a small cafe and a large game room offer sheltered fun during a rainfall. Pony rides and lessons are also available, as space permits.
Open Tuesday – Friday 12:00-17:00; Saturday and School Holidays 10:00-17:00; closed Sunday and Monday. Free for children age 6 -14. Wear sturdy closed-toe shoes.
Children engage with animals ranging from peacocks to goats in this lush farm-like setting. Chickens and rabbits roam free among little climbers on the playground. On Wednesdays and Saturdays from April to October, children in groups of 5 to 8 can help to construct a hut-village from wooden pallets, or polish their skills in the Friday afternoon carpentry club.
Visiting a bee colony, working on the vegetable garden, exploring new paths, playing in the sand and water or composing music on the unique water organ are a few of the activities available for different ages.
Open to the public.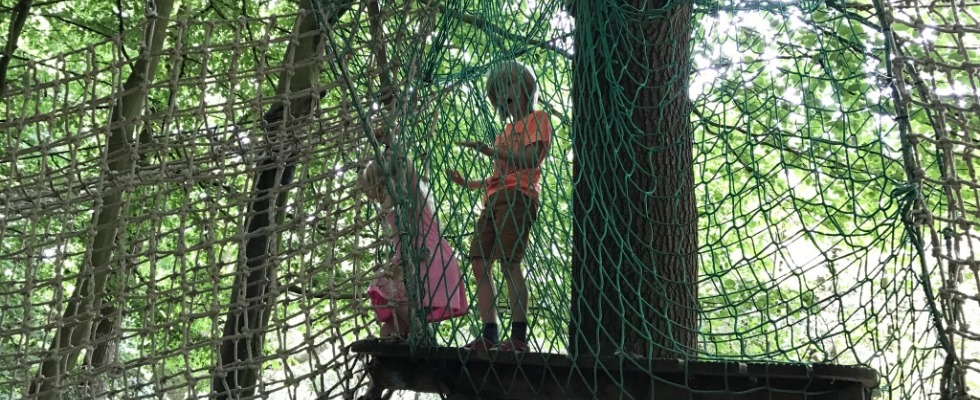 An incredible aerial adventure awaits children at the Fun Forest, located across from the Amsterdam Boswinkel. During this arboreal experience, thrill-seekers aged 7 and up can zip-line through tree-tops and navigate swinging bridges high above the ground, wearing real climbing gear. Nine different courses provide a challenge appropriate to each age and skill level, including adults. Participation requires a fee, registration, and appropriate footwear.
Younger kids, from ages 4 to 7, can practice their climbing skills for free on an exciting course nearby which is openly accessible to the public.
Open from mid-March to November. Reservations are recommended.
Located in Vondelpark and smaller than the other playgrounds described here, the tree-top climbing bridge is a much-loved discovery in the heart of Amsterdam. The enclosed rope tunnel is safe enough for 3 year olds to navigate, as well as an exciting detour for adolescent visitors to the Vondelpark.
Open to the public.
In the heart of the forest on the Grote Vijver lake (near the Amsterdam Bostheatre), older children and adolescents can discover their very own Play Island by means of a log bridge or a rope-drawn ferry. Getting wet is an integral part of this water adventure, which includes wooden rafts, climbing poles, rope nets, and a swing line. Swimmers can claim their new territory by constructing huts from branches or picnicking on the shores.
Open to the public year-round; be aware there are no lifeguards.
Described by some as gorilla bootcamp, little Amsterdammers can adventure through a tunnel, conquer a sliding hill or monkey around on a wooden ship in the "rough" playground, designed with input from local school children. The long sand beachfront (fenced off fom the canal) also features a big-kid cableway tow.
Open to the public.
Gated, and hidden in a huge housing courtyard, Plan West Nature Playground was designed with its neighbours in mind, but provides plenty of adventure space for other visitors. Supervised during opening hours, children of varied ages can rock-climb a huge concrete boulder, slide down hills through a tunnel, play house on a tree platform, pump water, picnic, or borrow tricyles and balls for games on the sports field.
Open Tuesday – Friday 12:00 to 18:00, Saturday and Sunday 12:00 to 17:00
---
photo credits: Lee Bouchard. Speleiland – Donna Bardsley
Lee Bouchard fell in love with Amsterdam on her arrival in 2013, which coincided with that of her second child. Life has bounced her back and forth between North America and Europe, (with a few other stopovers) and through as many career changes: from sustainable design to dance and cooking. She loves celebrating a deliciously active life with little ones.