How is one of the Mamas' favorites, Little Gym Amsterdam, adjusting its services during Covid-times? Rachel Perry sat down with owner Peter Paul and Gym Director Carlijn to learn what has changed and what has remained the same.
As I walk through the door to The Little Gym Amsterdam in Buitenveldert, I catch a reassuring whiff of Dettol through my mask. First impressions are that everything is very, very clean! There is a polite, bilingual notice on the door reminding parents to mask up and only enter the premises five minutes before the start of class. Windows are open. Inside, the aesthetic is pale, pared-down, and modern, with pops of bright colours. It is uplifting with none of the exhausting garishness of some kiddie establishments. Of course, in non-Covid times the venue buzzes with life, parents, children, and toys. On this occasion, the main foyer contains nothing but six child-sized blue chairs, carefully spaced for social distancing.
Classes, Holiday Camps and Birthday Parties
Many mamas will already be familiar with The Little Gym concept. Founded in 1976 and now with more than 400 franchises across the globe, it offers classes, holiday camps, and birthday parties for children aged four months to 12 years, helping them develop vital motor skills in a fun, musical, and non-competitive environment. In Amsterdam, where homes are typically smaller and the weather not always conducive to outdoor play, The Little Gym is a welcome venue for both local and international children. Here, they can burn off their boundless energy in a safe and structured manner while also enhancing their social, emotional, and intellectual skills. Classes are taught bilingually in Dutch and English, but even children who speak neither tend to thrive in an environment where verbal instructions are always supported by physical demonstration.
The Dutch Health Institute (RIVM) recognises that children under 12 – The Little Gym's target audience – are rarely seriously afflicted by the coronavirus and has sought to keep their lives as unchanged as possible throughout the pandemic. As a result, after the initial lockdown of spring 2020 when classes had to go online, all of The Little Gym's activities have been able to proceed, except for the two weeks of stricter measures in November 2020 when they temporarily suspended parent-child classes for the under-fours.
Gymnastics
I was already familiar with The Little Gym's general music and movement classes. New to me was knowledge of gymnastics offerings. These make use of the facility's extensive equipment and trained coaches for children to pursue gymnastics at a higher level. (I can't but think of how my childhood self would have loved these classes. I am part of that generation who fantasized about becoming the next Nadia Comaneci). But while we now know that training of 1970s Eastern Bloc Olympic gymnasts was punishingly cruel, The Little Gym's approach is positive and fun, yet disciplined in its underlying approach to safety and good form. For some children, it's a stepping-stone to Amsterdam's more competitive gymnastics clubs. For others, it's a welcome escape from their high pressure and time commitment environment and a means of simply enjoying gymnastics without excessive stress. What's more, it's the only place in Amsterdam which teaches gymnastics in English.
A Meeting Place
The Little Gym is fantastic for children, but as Peter Paul emphasises, "It's not only about the children and their activities but it's also about the parents." The arrival of a first baby can be an isolating time for new parents, especially if they are the first among their friend group to take this momentous step. Weekly parent and child classes from four months to three years offer a means to build family friendships that often continue outside of class. Except for the two-week November hiatus, parent-child classes are continuing to run although parents have to mask up following the corona guidelines.
"It's not only about the children and their activities but it's also about the parents."
Even parents of older children have typically found The Little Gym a good place to make friends; hanging around the foyer during classes enjoying a cup of coffee or tea, taking a breather from the demands of parenting to chat to someone else in a similar life situation. Peter Paul and Carlijn express their regret that the current corona measures have put this temporarily on hold.
Parents are no longer able to stay but must drop their children off for the start of class and return for them afterwards. At least The Little Gym is brilliantly located for efficient use of a childfree hour, with extensive shopping opportunities a few minutes away at Gelderlandplein.
Surprising Breakthroughs
There have been surprising gains from dropping children off and making a quick parental getaway too. Previously clingy children, who once struggled to relinquish hold of their mother's leg, have adjusted remarkably well to being handed over to a staff member. A firm but friendly new protocol has helped some more timid children make significant strides forward in their independence and development.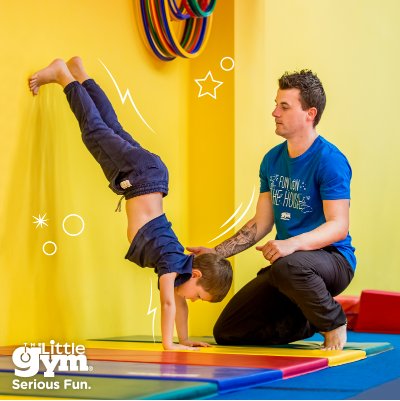 Above and Beyond
Peter Paul and Carlijn both emphasise how much they care about The Little Gym's relationship with its families. During the short period they had to close in the spring they kept in touch with personalised messages, and they have subsequently gone above and beyond to "make it comfortable for parents to come back." They are aware that they are catering to families of a variety of cultures receiving news of different measures to combat the pandemic. Indeed, while they are rigorous in their application of the Dutch guidelines, they also exceed them. Although the Dutch government allows the youngest of children to attend classes with a runny nose, The Little Gym is firm in asking children to stay at home at the first hint of illness. After all, if their trainers get sick, they must stay at home and self-isolate and class has to stop for everyone. With strict sanitary guidelines in place, everyone can continue to enjoy The Little Gym at minimal risk. With much of our previous lives suspended, it is good to know that this delightful establishment is open for children to let off steam this winter in a safe and nurturing way.
To learn more about The Little Gym's schedules and upcoming holiday programmes, take a look at their website, visit their Facebook page or their Instagram.
---
Disclaimer: The Little Gym Amsterdam has paid to be featured on Amsterdam Mamas because they believe that their services would be of interest and benefit to our readers, and we think so too. For more information on sponsored posts and advertising on Amsterdam Mamas, please see our Advertising and Disclosure policy.
---
Photo credit: All images supplied by The Little Gym Amsterdam
Rachel Perry is the British mama of three grown-up and almost grown-up half French children and has lived in the Netherlands since 2006, after spending her earlier life in the United Kingdom, Luxembourg, France, the USA, and Spain. Formerly Editor in Chief at Amsterdam Mamas, she has a PhD in Architectural History and is a translator specialising in English, French, Dutch and Spanish and writer.