Studio Anna Mora offers specialized exercise programs to expectant Amsterdam Mamas and delivers empowering recovery routines for Amsterdam's newest Mamas. Lori Evans spent some time learning more about the Pilates-Pregnancy connection with their highly experienced instructors.
Ideal Exercise During and After Pregnancy
Is your growing baby belly making it difficult to get through your regular exercise routine comfortably? Or perhaps you don't even have a regular exercise routine, but want to build up strength for labor and delivery. Or maybe you have recently given birth, and want help rehabilitating your body after a strenuous 9 months?
In any and all of these scenarios, Pre- and Postnatal Pilates classes at Studio Anna Mora may be just the thing for you!
What Is Pilates?
Pilates equipment and exercises were created by founder Joseph Pilates. In the early 20th century he developed what he called "Contrology": exercises that developed strength, ease of movement and mindfulness. In Pilates, it is important to coordinate breath with movement and do everything in a very precise, controlled way.
Pilates is really about feeling healthy and functional, not so much about shaping your butt … Pilates helps you control your body, so you can breathe comfortably … so you can avoid back pain … so your body feels good. – Monica Limnell
Developing a strong core is a key component. The core is in the center of the body and consists of the deep abdominal muscles and muscles closest to the spine. Pilates exercises, both mat and equipment based, develop core strength and control; they also correct posture, increase flexibility, and improve balance.
I asked trainers Jill Locke and Monica Limnell why Pilates is beneficial both during and after pregnancy. "Pilates is really about feeling healthy and functional, not so much about shaping your butt," says Monica. "Pilates helps you control your body, so you can breathe comfortably when coughing or breastfeeding, so you can avoid back pain when carrying your baby or pushing a carriage, so your body feels good."
A Full-Service Pilates Studio
Arriving at Studio Anna Mora you appreciate the cozy, welcoming atmosphere with its muted colors and natural light. Then you may notice the large array of exercise equipment, containing both the familiar (exercise balls, bands, floor mats) and the unfamiliar (wooden boards with numbers hanging on the walls, springy handles dangling, a rack of mysterious black plastic circles). I thought I knew about Pilates from a few mat classes taken here and there, but I discovered there is much more to Pilates. Studio Anna Mora is a full-service, authentic Pilates studio; they have all the specialized apparatus created by Joseph Pilates, such as the Reformer, the Wunda Chair, and the Springboard. In addition, the trainers at Studio Anna Mora have professional certifications in fields which complement their Pilates expertise: yoga, physiotherapy, dance, injury rehabilitation, to name a few.
Pregnancy and The Reformer
The Reformer looks like a low massage table and has various attachments for stretching, squeezing, and pulling. It is a key Pilates tool. "It's a little hard to explain." says Monica. "It's something you really have to experience."
Monica recommends beginning your postnatal Pilates practice with several private/semi-private appointments on the Reformer. "A few private classes on the Reformer are ideal, to see what happened with your body during pregnancy. It gives us a lot of specific information," Monica explains. It enables the instructors to customise a program for your body's unique needs.
But wait – there are also Prenatal Reformer classes! Jill says, "these classes are for people who are fit and want to have a challenging workout who also happen to be pregnant." Reformer classes are for more experienced movers, though no previous Pilates experience is necessary.
"I am a mother, and I trained throughout both pregnancies. It was my favorite thing to do," Jill says. "The Reformer classes are small so you get a lot of attention."
Going into pregnancy (and later labor) strong and balanced, you feel better. – Jill Locke
A Sample Prenatal Mat Class
I joined a Sunday morning prenatal class with the unflappable Monica. There were women in all stages of pregnancy, including someone due in a month! Monica explained her prenatal classes are safe all the way to a mother's due date, as long as she feels comfortable. Going into pregnancy (and later labor) strong and balanced, you feel better. It's so much easier to bounce back after," says Jill. The class was full, which is always a great indicator of happy clients. I met someone who had come for prenatal pilates during one pregnancy, and was back a few years later for the next.
The class unfolded calmly and deliberatively, using a ball for balance and cushioning, and squeezing those mysterious black plastic circles in various ways to work specific muscles. There were extra cushions to place under bellies when needed. I loved the care Monica took to explain each exercise, and how often she walked among us, checking on our alignment, and making gentle adjustments. The class ended with a mindful breathing exercise.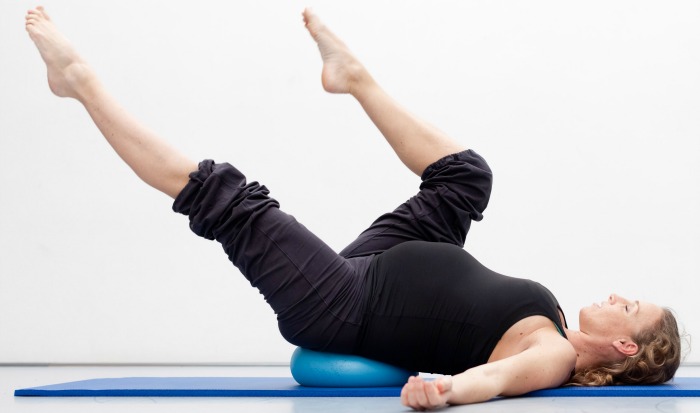 A Restorative Practice
"Pilates is a very restorative practice," says Monica. "It has always been one of our focal points. We realized that separate classes were needed for special needs." Classes and workshops for post-natal recovery are offered periodically, the next one being in March. These classes are designed to help new mothers rehabilitate their body safely after giving birth and they are safe for women with diastasis recti (the teacher is qualified to check the abdominal separation). Jill experienced painful pelvic instability in her first pregnancy and feels that her Pilates training really helped her recover. "The trainers here understand what a pregnant woman can and can't do."
A Comfortable, Supportive Community
Pregnancy and new motherhood can be isolating; getting out to exercise is a challenge between the changes in your body and an infant to look after. However, Studio Anna Mora is now forming classes for Mamas and (not-yet-crawling) babies. In these classes, mothers can take breaks whenever they need to feed/nurse, change diapers, etc., knowing that no one minds, and everyone is in the same boat. What a great way to build a sense of community!
It's a challenge for all mothers – expectant, new, or seasoned – to make time for themselves on a regular basis. Studio Anna Mora provides a wonderful opportunity for peaceful, personalized training. In addition to Pre- and Postnatal Pilates, Studio Anna Mora offers general Pilates, Barre/Ballet, Essentrics, TRX, Body Burn, Jumping Fitness, and Gyrokinesis. Classes are suitable for all levels of experience. Reconnect your mind and body and spirit with focused, effective exercises. And who knows – you might even shape your butt a little in the process!
*Make sure you use the link from this article for the special Amsterdam Mamas landing page, which will give you access to special offers only to our members!
---
Disclaimer: Studio Anna Mora has paid to be featured on Amsterdam Mamas because they believe that their services would be of interest and benefit to our readers, and we think so too. For more information on sponsored posts and advertising on Amsterdam Mamas, please see our Advertising and Disclosure policy.
---
Photo credit: Studio Anna Mora
Lori Evans is a writer and musician/piano teacher from the USA, now in the Netherlands for over three years. She recently moved to Haarlem with her techie husband, her delightfully grumpy 16-year-old son, and two easy-going cats, and thanks technology for keeping her in touch with her daughter in college in NYC.