Busy mothers balancing work, family, friends, housework, and pets often don't have the time to prioritise their own health, or the know-how to come up with a plan for their wellness. bbb health boutique offers women tailored health programs that accommodate their busy lifestyles. Mary Petiet finds out how bbb impacted an Amsterdam Mamas's life.
Lifestyle Balance to Counter a Busy Schedule
Amsterdam Mama Lisa Taylor works more than full time. Her job as a strategy consultant in pharmaceutical healthcare often involves international travel twice a week, and a work week can be 60 to 70 hours. An Australian native, Lisa has lived in Amsterdam for nine years with her Dutch husband and their two young children. Downtime is precious with her demanding schedule, so when she needs to relax and recalibrate, she turns to bbb Health Boutique in Amsterdam.
bbb stands for inner beauty, body workouts, and lifestyle balance seamlessly woven together. Since 2008, bbb health boutique has incorporated its holistic strategy based on the three pillars of body, food, and mind, helping women of all ages achieve their maximum wellness in a busy world. bbb is accessible to Mamas across the Netherlands, with locations in Amsterdam Amstel, Amsterdam Jordaan, Delft, Den Bosch, The Hague, 't Gooi, Haarlem, Rotterdam, Tilburg, and Utrecht.
bbb is a cozy, all women boutique offering tailor-made programs to help women achieve their best selves through all stages of life.
A Healthy Routine
Due to her schedule, Lisa understandably finds it hard to recharge and difficult to stick to a healthy routine. She considers the structure of bbb an important key to keeping herself on track. "I need to relax, and bbb helps me keep my body in check as I eat badly when I travel. I also love the time. You need to schedule bbb appointments ahead, so it's a real commitment to your health as opposed to the open endedness of a gym. The appointment intensifies the commitment to turn up, and if you don't turn up, they call you to see if everything's okay," she said.
bbb is a cozy, all-women boutique offering tailor-made programs to help women achieve their best selves through all stages of life. There are special programs for women who are pregnant, women who have just given birth or women who are in menopause. bbb further sets itself apart from the typical gym experience through the close attention their staff gives to clients, working with you to set individualised goals according to your needs. bbb staff will even babysit your kids! You can bring your baby with you from when they are 6 weeks old, and keep them with you the entire time you exercise.
Individual Attention and a Proactive Attitude
Lisa thrives on the individual attention and proactive attitude offered by bbb to help her reach her goals. "You're not just a number on a list. I've been in different plans at bbb over the years because the plans change with you, and I've been in my current one since last summer. Individual plans are drawn after extensive questioning by bbb staff to get an understanding of what you need. They look at behavior, psychological questions, sugar intake, muscle mass, hormonal balance, and take measurements to get a holistic overview. In my most recent plan, they took all the stats and said I needed to build muscle to keep trim. They tailor a specific plan according to your specific information. My goal at this point is to maintain shape through exercise, healthy eating, and muscle building, so I am attending classes for advice on food-based questions and also heated cabin classes to build strength and power," she said.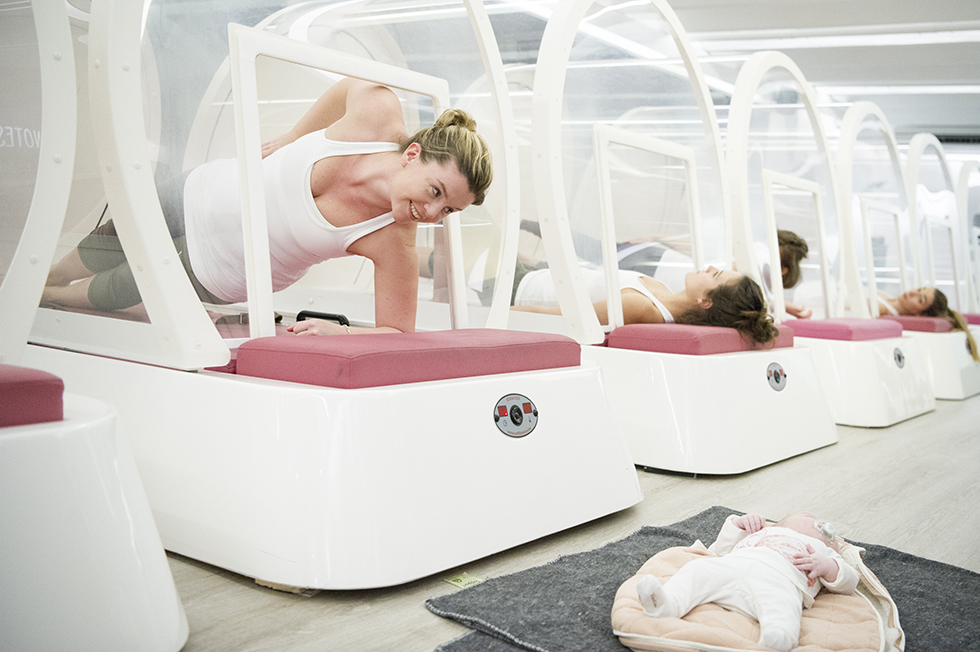 One of a variety of activities offered, heated cabins are unique heated enclosures encasing your body so you can work out while leaving your head free. This thermo-physical exercise method was developed by Swiss therapists 30 years ago, specifically for women to shape their bodies through increased energy consumption and fat burning heat. "Heated cabin and strength exercises cover all levels, but I go to a high-intensity one for 30 minutes, and an hour long one with weights included. It's intense exercise, and the heated cabin gives a faster caloric burn rate. The heat is also lovely, it's nice to go into the warmth during the winter," Lisa said.
You're not just a number on a list.
In addition to a committed workout schedule, Lisa also gets a lot out of regular check-ins from bbb regarding nutrition. "I can't stick to a nutrition regiment while traveling, but once a staff member came with me to Ekoplaza to point out good things to buy. We've discussed cleanse days I can keep, and lots of practical tips I really value. bbb gives me the flexibility I need because I can't do the super strategy of a daily program. This plan fits into my reality," she said.
Cozy and Relaxed
The exercise, nutritional choices, and practical advice have all added up to great results for Lisa. "After my second child was born I put on 30 kilograms, and I struggled for several years to get rid of the last ten. Advice from bbb got me out of poor sleeping patterns which were inhibiting weight loss. Now I'm down to five kilograms to go. I'm happy with that. I needed to find a long term solution, and I've tried everything. I needed something consistently motivating to keep myself in check, and this has been my best option. It's trendy, but not too trendy, it's comfortable, cozy, and it's relaxed," she said.
Are you curious to learn more about bbb health boutique? You can schedule a free trial on their website! To learn more about bbb health boutique and their unique services please visit their website and Facebook page.
---
bbb health boutique has paid to be featured on Amsterdam Mamas because they believe that their services would be of interest and benefit to our readers, and we think so too. For more information on sponsored posts and advertising on Amsterdam Mamas, please see our Advertising and Disclosure policy.
---
Pic of women in heated cabins with baby from bbb.
Other pics from Freepik.