In conversation with Anna Wallace, a Registered Associate Nutritionist and Food Freedom Coach, and founder of Anna's Nutrition. She talks about her weight loss program and how it's a sustainable alternative to those restrictive fad diets.
"Because weight loss needn't be about bringing boring food to the table or eating a plain bowl of salad while the rest of the family tucks in a pot roast."
There is something delicious brewing at Anna's Nutrition. Tell us about your upcoming program.
In January 2017, Anna's Nutrition is launching The Mindfulness Movement. Food relationships, habits, self-love, dieting mentality, emotional eating, and overall mindfulness is the crux of this program. The Mindfulness Movement is fully interactive – there are meal plans, access to endless nutritious recipes and advice, monthly coaching calls, and daily accountability to enhance the end result: a healthy lifestyle and a sound relationship with food that lasts forever.
The VIP waiting list for the program is now open! Applicants from Amsterdam Mamas will receive 50% discount on the program when the doors open in January 2017.
How can mamas in Amsterdam benefit from Anna's Nutrition?
I work with women who are busy with their careers and families, and who are struggling to lose weight in a healthy way. As everyone is different, I only focus on personalized nutrition – building a sustainable lifestyle that you can enjoy, which in turn makes weight loss much easier. We generally see anything between 10-15 kilos loss in my 12-week weight loss program, simply by healthy eating, no fads, no detox diets, just delicious and nutritious food combined with lots of interaction, support, motivation, and accountability.
As expats, are we more prone to emotional eating?
I would say yes, I was an expat when I first began to use food as a comfort and it is very prevalent among my clients. I think moving to a new country can be very difficult for many people. The loneliness of being away from home makes us use food as a source of comfort. I teach my clients to become more of a mindful eater, knowing when to eat and of course, when to stop. At times I encourage my clients to keep a food diary (on their phones), it helps people become more aware of their food choices and eating habits.
Where does Amsterdam picture in? Is it easy to make good food choices here?
I think you can really make healthy choices anywhere as long as you are willing to try. However, I do know that for a lot of my clients who have moved to The Netherlands have picked up many of the Dutch eating habits which actually sometimes may contribute to their weight gain. A Dutch person can eat a lot of bread, genetically it doesn't really make them gain weight; however, when someone from another country picks up the same eating habit it may impact their weight because it's not how they would normally eat and their body is not used to it.
I healed my own relationship with food. I stopped dieting and focused on eating for good health.
When did you decide to pursue a career as a nutritionist and a food freedom coach?
Food has always been something that I enjoy and love preparing. My mum spent a lot of time cooking and baking and I always loved to help. However, I developed an unhealthy relationship with food in my late teens which I put down to moving away from home. I gained weight, I dieted a lot and was stuck in a very vicious cycle that involved a lot of restriction and guilt around food. I healed my own relationship with food. I stopped dieting and focused on eating for good health. From my own experience, I wanted to dive more into the science around nutrition so I began studying Food and Nutrition at university.
What experience do you have in the field of nutrition and wellness?
After studying Food and Nutrition at university, completing an internship at The Institute For Public Health and The Environment in The Netherlands and graduating from university, I officially qualified as a Registered Associate Nutritionist in The UK. Since then, I have built my own online nutrition community helping and supporting women in The Netherlands, Ireland, UK, Germany, Belgium, Dubai, and we are expanding every month.
Is eating organic an essential part of healthy eating?
The most important thing to consider is eating the right kind of food, lots of fruit, vegetables, whole grains, fish, and lean meats, etc. Organic food can be somewhat expensive and as it stands at the minute there is not a lot of concrete evidence that suggests it's healthier. You definitely want to buy quality food, perhaps at times the organic option may be better quality but not always.
Is it easy to maintain a decent grocery bill when shopping healthy?
Pick a day and chart your meal plan for the rest of the week. It prevents unnecessary shopping and promotes healthy eating. Look out for fresh produce at farmer's markets near you and plan your meals around them. In winters, a large pot of soup or stew is handy and can last for a few days. Same for chilli and casseroles. And don't be afraid of frozen fruit and vegetables. Being cheaper, people often think the nutrition quality is less. Instead, frozen fruit and vegetables can be more nutrient-packed if frozen quickly after they have been harvested.
The ever changing science of nutrition. How do you keep up?
Nutrition is quite complex and it's exciting because the information is always changing. As a registered nutritionist it's important for me to keep up to date with new legislation and guidelines, I follow most nutrition organisations and reading scientific journals. I believe we are being inundated with a lot of misleading information around food these days on the internet.
What is your favorite snack?
I have a few — dates and real peanut butter, Greek yogurt, almonds, walnuts, cheese, crackers, and hummus. I always recommend my clients to eat every 3 hours to keep your blood sugar levels maintained throughout the day and to also help with energy. These snacks come in handy. For me, taste is important and that really comes across in my meal plans. When you enjoy what you are eating, you are most likely going to keep at it.
Favourite winter salad?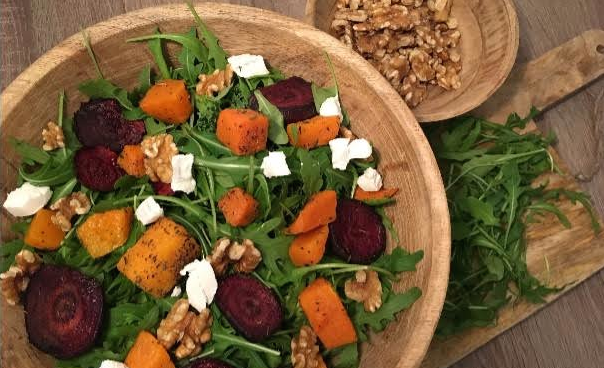 Roasted Pumpkin and Beetroot Salad
Ingredients
3 cups of sliced pumpkin
3 beetroot
Salad bowl of rocket
½ cup of walnuts
½ cup of goats cheese
1 tablespoon of olive oil
1 teaspoon of thyme
Black pepper for seasoning
2 tablespoons of balsamic vinegar
Directions
Preheat oven at 180 degrees.
Take diced chunks of pumpkin, add to a bowl with a little olive, black pepper and ½ teaspoon of thyme. Mix and ensure all the pumpkin is coated.
Wash beets, slice and add to a separate bowl with olive oil, black pepper and the other ½ of thyme. Mix around to ensure all the beets are also coated.
Place beets and pumpkin onto a baking tray with baking paper and pop into the oven for around 40 minutes. Halfway through baking, turn over.
While the vegetables are roasting, place the rocket, walnuts and goats cheese in a bowl and mix. When the vegetables are ready, allow the batch to cool and add to the bowl of salad. Drizzle some balsamic vinegar and dig in.
Anna's Christmas Recipe eBook is available on her Facebook page – look up the pinned post. Contact Anna at info@annasnutrition.com.
---
Note: Anna's Nutrition has paid to be featured on Amsterdam Mamas because they believe that their services would be of interest and benefit to our readers, and we think so too. For more information on sponsored posts and advertising on Amsterdam Mamas, please see our Advertising and Disclosure policy.
---
All images used with permission.
Meher Fatma is a full-time mom and a freelance writer. Passionate about DIY projects, she loves putting her crafty ideas to use at Button Balloons, an online party shop that she co-owns