A workspace with all the comforts of home? Is it possible? Here's the scoop on how Charley's unique concept of a merged work/life space can bring a lot of "gezellig" time to Amsterdam's working families.
When Omri Rodin and Emily Pines couldn't find a productive workspace in Amsterdam which could also accommodate their new daughter, they ended up creating one themselves: Charley's. Located in Nieuwe Kerkstraat, Charley's is a multi-functional workspace with all the comforts of home … but none of the laundry.
Whatever You Want It To Be
Embodying the atmosphere of a comfortable living room, with soft touches such as wooden furniture, and an art gallery on the walls, Charley's provides Amsterdam parents a creative space to work, share, celebrate, and connect without the pressure to purchase refreshment, wifi, or printing. It's a comfortable glimpse of a more connected future, and the kids are welcome.
"When you come here, it really feels different. You need to experience it for yourself. You can even move the furniture. It's what you want it to be, and you should be able to make it that. It's for parents to work and meet, and you can bring kids. You don't need to feel bad about the kids crying, they all do that sometimes, and it's no problem here," says marketing manager Constantin Wahle.
Families don't experience this as a cafe, it's more as if they're visiting friends …
A Multifaceted Homey Space
Charley's casts a wide and inclusive net and is such a multi-functional space it almost defies branding. More of a concept than a workspace, it is a relaxed hybrid that meets you where you are. Divided into six sections on the premises of a former garage, it includes a two-level playroom complete with toys for the kids, so parents can play, relax, meet friends, or even work while their children play. The play space is well stocked with toys, books, crafts, and games, and designed so children can find their own spot, whether it's quiet and relaxing or engaging and fun. The living room sports comfy chairs, newspapers, magazines, board games, and brain puzzles. There is an open garden space, and there are quiet spaces with desks and tables for creatives, students, flex workers, freelancers, companies, and even your dog. You can host corporate events, creative writing and fine art classes, yoga evenings, art shows, or children's parties.
"The children's parties evolved. Moms asked if we could host birthdays and we gave it a shot. It was a big hit, especially for parents of young children. It's focused on the parents and the kids, with the living room space conveniently connected to the kid's space, so it's ideal for the whole family. You can choose an all-inclusive birthday party or you can bring in your own food. It has the feeling of a celebration at home without all the cleaning," says Charley's manager Rik de Graaf. "Families don't experience this as a café, it's more as if they're visiting friends."
It's a merging of the work space and the recreational space in the best possible way.
Charley's has embraced an alternative business model which may prove the template for future ventures. You don't pay for goods, such as coffee, instead, you pay for your time there. Fees start at 5 euros an hour, and never exceed 30 euros a day. A full day is 30 euros and includes everything: coffee, wifi, printing, and juices. Kids come for free, and grandparents are half price. There is plenty of sustenance for the day, and among the snacks are panini, and cakes delivered in person by the English Cake Lady. Constantin says his favorite is the fudge brownie followed by the carrot cake.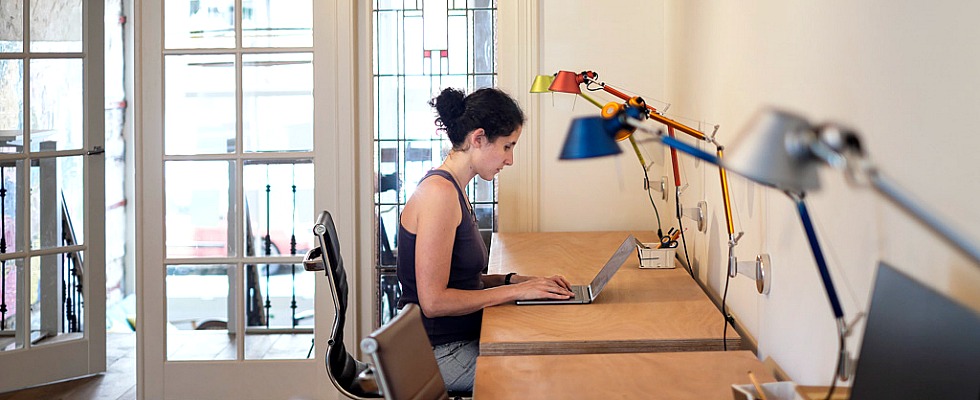 "It's a merging of the workspace and the recreational space in the best possible way. You can stay as long as you like and pay for use of the space, so there is no pressure to leave after a cup of coffee. There is no awkwardness of sitting too long because that awkwardness doesn't help people work or play," Rik said.
Did We Mention the Great Coffee?
The coffee bar is just to the right of the door, so the original refurbished vintage 1960's chrome coffee machine jumps out as soon as you walk in. The beans are from local roasters Frederick's and Dave's, who go to great lengths to source and roast specialty grade coffees from all around the world. "We want to offer very good barista coffee here, and we want to work with cool, authentic machines," said Rik.
Clients say it's nothing like a normal café. It's like being at home and not having to deal with cleaning and food.
Charley's marked the one year anniversary of its founding on June 8 and they have much to celebrate. It's a holistic experience, merging work, family, and art, and the owners have succeeded in creating a space where the different things in life can come together. "Clients say it's nothing like a normal café. It's like being at home and not having to deal with cleaning and food. I believe families are looking for a place where they can relax, and the beauty is seeing a dad having a meeting while his kid makes a puzzle on the table: the merging of parts of life. I don't think we see that anywhere else in Amsterdam," said Rik.
To learn more about the unique space and services Charley's can offer, visit their website.
---
Note: The company in this post has paid to be featured on Amsterdam Mamas because they believe that their services would be of interest and benefit to our readers, and we think so too. For more information on sponsored posts and advertising on Amsterdam Mamas, please see our Advertising and Disclosure policy.
---